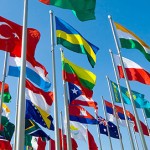 If to see every corner of the world, to experience new culture or simply to move to another country are among your goals – that means that you're ready for new discoveries and feelings! Resume Writing Service supports your decision and is eager to give you a piece of advice on how to be visible for recruiters from your dream-countries. First of all, start with international resume posting! Resume Writing Service will explain you how to make this resume distribution effective!
Resume Writing Service Emphasizes Importance of the Proper Resume Format
Resume posting will bring results only in case your resume meets standards. You should be confident in the resume type employer expects to receive, because differences are observed from the every beginning – the title of your paper. Europe will be waiting for a CV, when Asia for a resume. Look through some samples on the Web to be aware of the optimal length, font size and margins. Resume Writing Service can advise you, which resume format is commonly used in every country and professionally create such a paper for you. Our professional resume writers know how to make your Swedish CV or Spanish resume stand out!
Start Posting Your Resume on International Job Boards
When your perfect resume is ready, Resume Writing Service suggests start posting on the largest jobsites, which have departments worldwide. CareerBuilder, Monster, Indeed, Careers-Global perfectly match this criteria. On the one hand, they are known almost in every corner, and on the other – they are the biggest, therefore your resume will be visible for a vast majority of employers.
Make Search for Regional Jobsites
The next step in resume posting is finding some regional job boards. If you have already determined one targeted location, it will be much easier to find some national sites, but if you are interested in the whole region, your job-site selection will be more limited. Of course you can try to post the resume on several European portals in case you don't care what country you'll be living soon, but it will take a lot of time.
When Should I Stop?
Resume Writing Service distribution professionals emphasize that a couple of regional sites won't be enough. The optimal number is 5: try to post your resume on 5 big international job boards and 5 per country. If you're interested in the whole region, then leave your resume on 10 regional websites.
Don't forget about resume updating once in two weeks and start packing your luggage. Resume Writing Service is sure that someone will send you a job offer soon!