The Applicant Tracking System (ATS) is technology that has revolutionized how one should go about submitting a cv, and how job applications are handled and received. Go back a decade ago, and companies would still be filing resumes and going over them one by one! But today, it is an entirely different story. ATS systems have made it easier to record hundreds, if not thousands of resumes in a single database. Ideally, the system also comes with advanced sorting mechanisms that enable companies and businesses single out to the most ideal candidates that meet the ATS requirements of a given job.
The most advanced ATS systems even come augmented with artificial intelligence (AI) and Natural Language Processing (NLP) to make an automatic check quicker and simpler for the company. And that is why more companies and businesses are utilizing ATS based software today!
Some Recruitment Statistics That Advocate the Need for ATS Software in the Marketplace Today
As a result of ATS systems, job recruitment has been completely transformed. In fact, here are some of the most interesting and relevant statistics on how the job seeking and hiring market has been restructured:
Searching for greener pastures: The modern employee today, constituting of about 91% of millennials, prefers to spend an average of only 4.2 years with their current employee, before opting to find a much more lucrative job elsewhere. This is according to the Future Workplace Multiple Generation @ Work survey. Companies therefore have to put in place an effective job requirement system that ensures any vacancies created by employees who have left are filled with qualified professionals.
Fierce competition: At the current moment, United Kingdom graduates are facing the toughest job markets since the in depth depression. The stats do not lie. In fact, a recent report released by the Higher Education Careers Service Unit showed that 1 in every 12 graduates was without work for the first six months after leaving university! This means that the number of graduates being churned out of the universities is higher than the number of new jobs being created. This has led to quite a fierce on-going competition among job seekers looking to stand out from the pack. Companies today are looking to sift fast through a large volume of applicants in order to find the right pick.
Looking for top quality employees: With the advancement of technology, companies have started searching for employees who are not only qualified in the given niche, but also know the modus operandi of their company beforehand. This gives an added advantage because it means less capital spent on activities such as orientation for the newcomer. With that in mind, ATS systems become handy because they can easily check out the employment history of a large number of applicants; and ultimately choose the most qualified one.
What Are the Common Problems That Applicants Face When It Comes to ATS Requirements?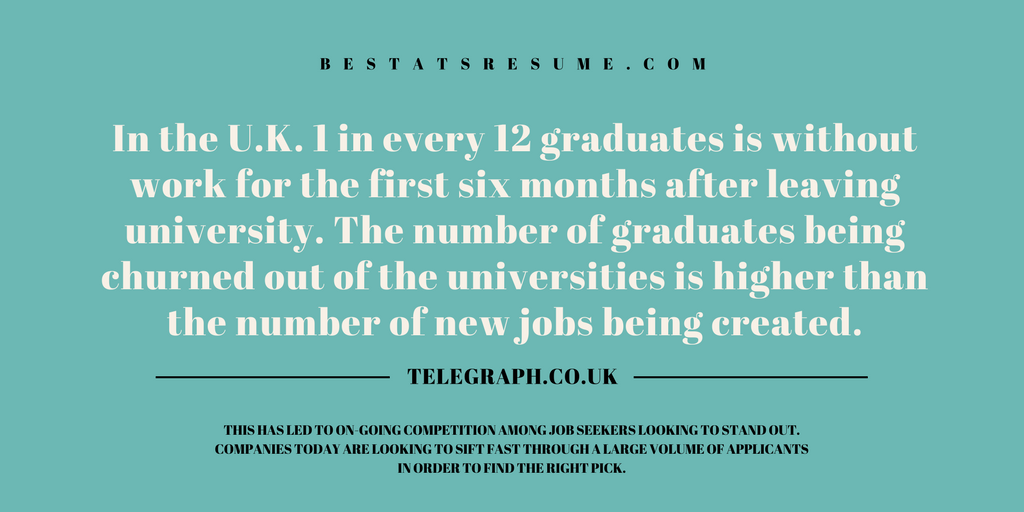 As a job-seeker, we advise you to be cautious of some of the issues mentioned below. These just might be the little features that have cost you vital job opportunities in the past!
Failure to meet requirements: ATS requirements can be quite demanding in order to single out the best candidate for the given job. That being said, it is important for you as an applicant to ensure that all requirements of the job have been adequately met as you go over your resume
Issuess with reference checks: ATS checks will automatically check your references for credibility in order to ensure that your application is legit. Hence, your references need to not only be credible, but also readily available to prevent your potential employer wasting time and resources trying to get in touch with 'ghosts' or referees who are not available!
Issues with reference feedback: Now, this can sometimes be a situation that is out of your hand. Say that you have given your previous employer as your past reference but he or she did not have a great standing with you. Even though you did not know, they might put in a bad rating for you and potentially hinder you from the dream job that you are applying for!
Great Tips to Properly Format Your Resume to Meet ATS Requirements
Here are some essential tips to ensure that you deliver a top-notch applicant tracking systems resume to the job that you are applying for:
Keep formatting simple: Formatting a resume for ATS should be as simple as it gets. While it can be tempting to highlight your creativity as your strength, most ATS systems prefer simplicity in their processing. That means that you'll be safe if you stay away from logos, pictures, symbols, and even shadings! Secondly, try to keep it as official as you can in your document. Avoid using fancy fonts and stick to Arial, Times New Roman, or Courier. Keep the formatting also regular throughout the content; where you stick to Qualifications, Experience, Skills etc. Finally, ensure to send your resume in a word.doc instead of a pdf file.
Nail the correct keyword: One of the best ways on how to optimize resume for ATS is keyword utilization. In fact, using the correct keywords in your resume will give your resume a much higher ranking and a greater opportunity to be selected during the applicant processing stage.
Ditch the career objective section: It's been proven time and time again on how to write a resume for ATS, that the career objective section is a waste of space. Instead of writing about how you would like to apply your skills, you should be focusing on how the company needs you to apply them! Instead, you can write a simple qualifications summary in bulleted points with ATS-friendly keywords!
Don't make any spelling mistakes: Spelling mistakes are one of the biggest errors you can make in your ATS resume. Not only will they be highlighted, reduce your ranking, but also showcase a sense of laziness while applying for the said job. Make sure to adequately check your spelling throughout the paper. You can use a grammar checking software to do so.
And so with the above mentioned ATS resume tips, you can greatly increase your chances of getting a job. We also offer essential pre and post resume services that will assist you in beating top applicant tracking systems. These include editing, proofreading, formatting; and essential confidence-building tips to boost your presentation skills!
So get in touch with us today to access quality services in helping you improve your ATS requirements!