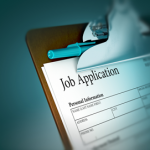 ResumeWritingService.biz knows that after resume submitting often appears unpleasant and uncertain period of company's silence, when you don't know exactly what to do. Many companies don't have a rule to answer on the all resumes they've received and get into contact only with the candidates that meet their requirements. Usually, such companies just don't have enough personnel to deal with all that answering work. The best variant in such situations, according to Resume Writing Service is to calm yourself is calling to the company wondering if they have received your application. But, if you're a lucky and get a receipt confirming receiving your application – that means you've got an answer from big company. As a rule, such companies have personnel department and to answer on resumes is its work. But you may still feel uncertain, when you've got only confirmation of receiving your resume, because you don't know how long you have to wait until interview invitation.
A lot of recruiters are certain that you have to follow-up in 1-2 weeks of silence, even if you received a receipt before. It should be brief e-mail, which shows your interest in the position and can differentiate you from other candidates. If you're choosing between a call and e-mail – give preference to e-mail, there are plenty of hiring personnel concerning follow-up calling disturbing and unreasonable. It can seem fantastic, but Resume Writing Service heard that some employees are saying, they were offered a job only because they were active and didn't lose the contact with the employer.
While writing a follow-up note you can put the next questions to the recruiter:
what are you presumed to do next, will you be informed about ending of hiring process and how long you have still to wait;
do they need any additional information about your skills or knowledge;
can they meet you for an interview at the time you'll be not far from the company's building. This point applies to the candidates from other cities, who haven't got possibility to move from one city to another every day.
Be ready to face with rudeness or unpleasant attitude to you after follow-up actions: sometimes people are too nervous about such things. But never give up and always follow-up, maybe, it will be the reason you're in! You can order follow-up letter writing at ResumeWritingService.biz!