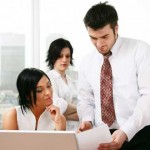 Letter of application, letter of intent, inquiry letter and prospecting letter… So many various names are referred to two quite similar business documents – cover letter (also known as letter of application) and letter of interest (known under other titles named above). Not to get puzzled in these main categories, you should feel a subtle difference in their function, format, content and expectancies after sending them. Let's have a good look at each question recommended by our Resume Writing Service to answer while writing these letters:
Covering letter is usually a requested document. It increases chances for hiring and is attached almost to every resume. Writing a letter of interest is your personal decision and is not obligatory.
Prospecting letter is send before job is available and writing a letter of application is timed to the opened vacancy.
Cover letter is written for applying for a peculiar position. ResumeWritingService.biz thinks that the main aim of it is to catch employer's eye on you, to stand out from other job-seekers. Letter of interest is written to acquire about existing or further employment possibilities and usually is a good way to get information about non-advertised vacancies.
As writing a cover letter is initially oriented on definite position, it includes only key points in work history, education and skills. The main role here plays meeting requirements and company's targets. Inquiry letter gives short description of sender's all working experience, gained skills and diplomas. The main attention is paid to applicant's interest in job and beneficial results of his/her hiring.
Both of letter types should be short and not more then one page (2-3 main paragraphs), but letter of interest is usually a bit longer, because it includes more personal information.
After sending a cover letter you may expect interview invitation and in case of its absence you can call or write email inquiring about it. Large companies can give no feedback, but you can always get into contact with hiring manager to know about your future. After receiving your letter of interest, employer usually provides you with information about current employment possibilities and in seldom cases such contact ends with personal appointment.
No matter what kind of letter you may need, please, remember that you can always get necessary help with it at www.resumewritingservice.biz! Don't hesitate to place you order with us!