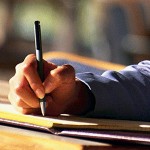 Resume Writing Service wants to remind you that one of requirements when applying to a university is a Letter of Application. This letter, which is also regarded as a personal statement, includes your motivation for applying (why are you applying to this university?), your achievements and goals (what are you looking to achieve by being accepted? what personal qualities you feel will allow you to succeed?) and your future plans (what do you plan on pursuing? why do you feel attending university is the right choice for you? how will university studies help you achieve your goals?).
In order to write such a letter, you need to become more acquainted with the university itself, orient yourself towards success and take into account the advice our services offer:

Develop a plan. Every impressive application letter starts out with an outline.
Avoid using "I". Although you're writing a personal statement, too much "I" throughout the letter makes an unpleasant impression, undermines the flow and distracts attention from your main points.
Relevance – make sure to include all the listed requirements in the body of the letter and be concise.
Do not include only successes – talk about how you learned from your failures, how they taught you something new and highlight their importance.
Be specific and avoid going off topic.
Make your letter original – make it unique and avoid run on sentences.
Provide examples – describe life experiences, situations encountered and inspirations.
Describe yourself as yourself – show your weaknesses as being an inseparable part of the learning process.
Do not express deeply held opinions on social or political issues unless they are relevant.
Use a formal tone at all times!
Provide examples – describe life experiences, situations encountered and inspirations.
For more detailed advice on how to develop the perfect Letter of Application, please consider our professional help.

If you are uncertain as to whether you can create a Letter of Application yourself, contact us for assistance and we will provide you with an outstanding level of service .