Are you a talented, skillful, versatile person looking for a job? If you are then it may seem strange, why can't you find a job? In most cases the reason is very simple: your resume is not properly written! I'd like to give you some tips concerning resume format. Maybe, they will help you get the job you want. Remember, a well-written resume is your first step to the success. So, consider the most effective formats of resume writing.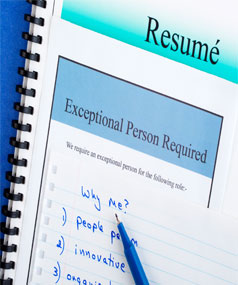 The first one is called "Functional format". If you are applying for a position and you need to demonstrate your qualifications, this resume format will suit you perfectly well. And if you are lacking work experience, this approach to resume writing will also help you! You won't have to present your work experience in details. However, this type of resume will highlight your educational qualifications and technical skills. You will impress your employer with your qualifications, and your lacking experience won't a problem with this kind of resume.
Another format for resume writing is called "Chronological format". This resume format will be useful if you are an experienced worker. Here you put your experience in a listed manner. You start with the experience you have gained last to the experience you gained first. Besides, a good chronological resume includes a summary of your educational qualifications. You should present your aims and areas of interest. You may tell where you see yourself in some years. A lot of employers like reading ambitious resumes. A chronological format will make your resume presentable and reader-friendly.

The third approach to resume writing is "
Mixed format
". From the name it is clear that this is
a combination of both chronological and functional resume writing formats
. The mixed format is perfect for those who have a good work experience and educational qualification. In this kind of resume you will be able to present your skills in a detailed manner together with your work experience.
It is the most common resume format
. However, if you are lacking qualifications or experience, use one of the
resume writing formats
listed above.
Having necessary skills and experience is not enough to get the desired position. Your resume should reflect them perfectly well. Make sure you take the right resume writing format that will help you to turn all the weak points into the strong ones!