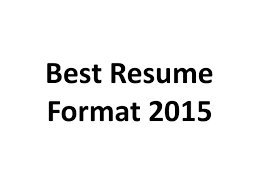 Considering the fact that it's 2015, there is no room for mistakes with your resumes. They are the biggest factor when it comes to landing a couple of job offers Having a format for your resume that ensures you grab an employer's attention is everything for online resume creator, because chances are you have less than thirty seconds to make your case and impress them.
Reverse Chronological Resumes
This type of resume format highlights all of your job history and work experience using your current career, or career experience, at the top. This format also presents somewhat of a timeline view for your employment history, accomplishments and your responsibilities for previous and current work. The majority of employers prefer their candidates to use this resume format because it literally spells everything out for them.
Typical sections that must be included when it comes to reverse chronological resumes include:
Education
Professional accomplishments and experience, can be listed together or directly after one another
Career objectives, your future goals or where you see yourself in five years, which will already answer one of the questions that you are probably going to be asked
Additional skills, such as time management, organization, etc
Combination Resumes
This resume format 2015 is extremely popular among employers because it creates a hybrid of chronological and functional resumes, and utilizes both formats by focusing on the strongest skills that you have. They are linked to your job history and have an approach that is best for those switching careers, recent graduate students and professionals who have extensive experience but do not wish to repeat their job descriptions from past similar jobs.
Functional Resumes
This popular format focuses on your marketable skills rather than highlight your employment history completely, and is best for those who do not have a lot of work experience, those who are switching careers or even people who are coming back into the workforce with some gaps in work history. Your achievements and skills are near the top instead of the bottom, while abbreviating positions held, locations, dates of employment and company names. There should be an education section following the rest of the categories with your most recent educational achievements at the top of the list for resumes 2015.
Gaining Interviews and Winning Jobs
By following some of the best resume format 2015 you will successfully land yourself and interview, get chosen for a job and the rest will be history! Keep in mind that using a sub par resume will get you nothing but your time thrown in the garbage, so keep it updated and well informed.
Image credit: http://www.slideshare.net/resume2015/best-resume-format-2015