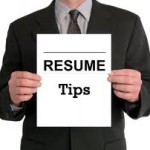 Refreshing a resume is something you really do need to do regularly. You need to do it whenever you do a job application, too. We've put together some key resume tips to help you.
Why it's so important to refresh your resume
It's critically important to keep your resume current, well laid out and looking good. Remember that your resume is a major asset. The better it looks and the more competitive it is, the better. If your resume is more than about two or three years old, you may well need to reformat it, too.
There's another problem, though – A resume which isn't tailored for a specific job application is likely to be far less competitive, particularly compared to the latest functional resumes. Just look at this software engineer sample resume to see the difference. You can see why refreshing your resume is an ongoing task.
Refreshing your resume basics
The good news- Refreshing your resume is comparatively straightforward. Professional resume writers say that you need to consider a few basic issues:
Information – This aspect is a naturally core requirement. Your resume information needs to be right up to date and current. Do not include "ancient history" over 10 years old unless absolutely necessary and relevant. You must add new information, ASAP!
Presentation – You need to make sure that your resume presentation is up to market standards. The latest resume formats are extremely efficient in both visual presentation and for presenting information. You can create excellent layouts which will deliver a lot of high value information.
Performance-related information – Resume information related to performance, sales, and similar quantifiable information needs to be managed. You may need to rework your resume information to match job specific requirements.
Achievements – Achievements are critical information, and they'll get you interviews if you upgrade your resume regularly. These parts of your resume can be ultra-competitive, or not. Make sure that your achievements are formatted to stand out and look good.
Personal profile – Your personal profile is a truly unique part of your resume. You're strongly advised to take the time to research and build a top quality profile. Your personal profile is your "identity", to readers of your resume. It has to look good, and look interesting.
Quality control – Managing your resume information
Whatever type of resume you have, you do need to follow some basic steps and procedures when managing your information while editing your resume:
Target job criteria on your resume – This is best done using your skills list. Use your skills section to address all the essential job requirements.
Edit carefully for every application – It may sound basic, but you need to make sure your resume is in top quality condition, with no "leftovers" from other applications that won't make sense.
Graphics – Graphics need to be very easy to read and their information must be absolutely straightforward. You may need to adjust resume sections to manage space when adding new graphics.
Photos – Use only HD photos, and make sure any photos of yourself are current.
Images are taken from: gstatic.com, cdn.business2community.com