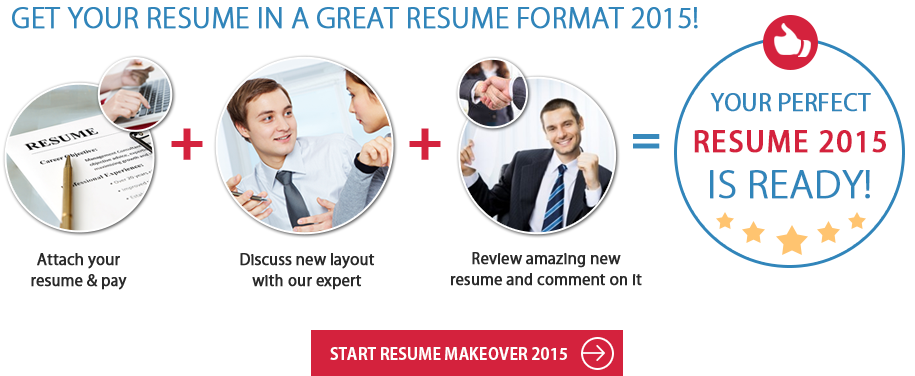 PROFESSIONAL RESUME WRITER JIM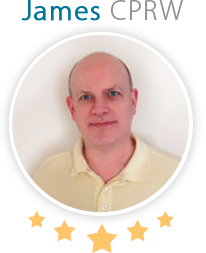 As a Certified Professional Resume Writer (CPRW), I create resumes and cover letters that sell the client in the best possible way for the position he or she is seeking. As a certified resume writer and career coach, my client experience runs from recent high school and college graduates to senior executives, and my industry experience is wide. In job search, it is all about selling yourself and my job is to provide the tools and guidance to do that most effectively.

MY AREAS OF EXPERTIZE
Financial, sales, marketing, customer service, administrative, and educational resumes. I am also particularly skilled at writing resumes for students just out of college. I am very familiar with the pharmaceutical, media, entertainment, banking, advertising and retail industries.
SERVICES I WILL HELP YOU WITH

Choosing the Best Resume Format 2015

The latest 2015 resume is a real departure from conventional resume styles. This is the new "designer" resume format, and it really is quite different. The new resume formats for 2015 include a lot of advanced layout features and other innovations which are designed to make resumes look really good.
Resume 2015 basics
The latest resume formats are based generally on functional resume layouts. These highly efficient resume layouts are excellent for space on information management and easy to work with. The new formats take advantage of the flexibility of these layouts to provide many different options for improved resume composition and design.
The new frontiers in resume writing, composition and design
The core elements of the new resume layouts are:
Standout text boxes and "breakaway" text
This layout will be more familiar to you as a layout you will often see in magazines. This is "free standing" text, in dedicated spaces, often using headers and similar devices to attract reader attention. The huge advantage of this type of layout is that it makes more space available and it makes information much more manageable. This is a very flexible type of layout, suited to any type of profession or job application. The original formatting, as a matter of fact, was used by graphic artists and media people. It's been so effective and so successful that it's now become the mainstream style for resume design.
Value statements on your resume
This has been an evolutionary step in resume content and it has been in progress for some time. The idea of value statement is to provide a clear, quantifiable picture of the value of your skills and experience. A typical example of value statements are your achievements on your employment history or other sections of your resume. This type of information is very high value, and need to be presented effectively. The new resume layouts are making it much easier to deliver value statements.
Visual elements in your resume
A further revelation of the new resume layout has been the adoption of a range of graphic features and design options. Use of colors, motifs, use of fonts, and better layout options have drastically improved the visual elements in resumes. The technical name for the process is "visual engagement", which is a term used to describe the visual user experience for people reading magazines and online advertisements. The net effect also is to provide a much more attractive document. (Please note that the visual engagement process also uses HD standard graphic software and dimensions.)
Inclusion of videos in resumes
This is an option which has been available for some time, and experts are somewhat divided about its value. It must be said that the video elements in resumes has been highly successful for some people. Video elements in resumes can be extremely effective, particularly where the job applicant has media training and is good at presentation. That said; the reverse applies to people who are not adequately trained in media presentation. A person whose microphone or camera technique is not up to standard may find a video element in the resume a real liability. At the very least, it is strongly advised that anybody considering a video component in the resume has some basic media presentation training.
Professional Help with Resume Formats for 2015

The thing about resume formatting is that it's very meticulous and complex. You control a wide range of things, and it's difficult to know which ones to change and leave the same, which ones to include and which to leave out. That's what makes examples or templates so valuable. With these you can see the principles that resume are built around, and you can get a general feel for an overall aesthetic or idea, and then you can apply what you see to your own resume. What helps is tips, guidance, and professional help, and our service offers all of this and more. With the highest quality resume format 2015 designed by experienced and skilled professionals, and with a service that is simple to access and always there to help, there's no excuse to not come up with a great resume!
Targeting resumes
Targeted resumes are generally considered best practice, particularly for professionals and people in midcareer, who are able to provide high quality information regarding specialist and high-value skills. Targeting is in fact a form of presentation, and it can be extremely effective, making a job application much more competitive. The main issue with targeting is which audience is reading your application. Recruiters, for example, may have differing opinions regarding the specific requirements of a job. Employers, similarly, may have a specific range of requirements and different perceptions regarding what they want to see in a resume. The best practice approach is to use your skills and experience to write a truly effective, professional resume which shows superior skills and knowledge. The "network resume" – A network resume is a resume design for dissemination throughout your business network to people who know you and people with whom you associate on a regular basis. This is really a sawn off resume, designed for friends and associates as a sort of memory jogger, but includes a lot of useful information about your skills, services, and achievements. It's not unlike a much smaller LinkedIn profile in some ways, and very useful for your friends and associates to have.
Choosing the resume that's right for you
If you're not familiar with the new resume formats, layout styles and information requirements, it is very strongly advised that you check out online sample resumes in your own profession or use the best resume writing service. It's important to get a clear picture of the possibilities of these new resume formats. It is particularly important to ensure that you clearly understand your presentation options. One of the main problems is when trying to choose a new resume format or upgrade your existing resume is that naturally the new formats are very different. Switching from a standard resume to a functional resume, for example may involve completely rewriting your resume, and the new resume will be barely recognizable compared to the old one. Take the time to think about your preferences, your specific needs for job applications, and above all, which type of resume is best suited to your requirements. If you regularly make a lot of job applications, choosing a resume format which is easy to work with is definitely very important. It is useful to compare resume formats and consider the pros and cons of each type. If you find one type resume is looking too complex, it probably is too complex for your needs. On the other hand, if you see a resume which looks like a great presentation and looks very easy to work with, you've found a candidate for your new resume format. The best resume is going to be the one that gives you confidence, provides all the space you need, and is very easy to tailor to every job application you make.
Be fussy, select the best for you. You'll be glad you did!