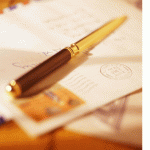 Resume Writing Service knows that even an excellent interview doesn't end with handshake. Thank you letter is the final accent in interview stage and a sign of your high professionalism and good manners. In addition, sincerely written letter of your appreciation to employer is the last chance to show your superiority over the other candidates that can even play decisive role. So never neglect the power of three paragraphs of pleasant words.
According to ResumeWritingService.biz, the proper time to write Thank you letter is just after the interview and not later than in 24 hours. The best variant is to send it per email, because it takes less time for delivering. As usual, such letters are not more than 3 paragraphs, written in single space and double space between paragraphs. Such structure is common:
date and contact information of the person you've spoken to.
form of address supposed to be: "Dear Mr./Mrs./Ms." and the recruiter's last name and a comma.
in the first paragraph you thank for taking the time to meet with you and show your interest in this position.
Resume Writing Service thinks that in the second paragraph you can emphasize your skills and qualifications, especially if you've forgotten about something during the interview. If you were discussing some point from your history, you can mention it.
in the last paragraph show once more your interest in new job and the way you're looking forward to hearing the final decision.
your Thank you letter should end with "Sincerely," your name and surname.
Services we offer:

Here is a sample of a Thank you letter after good interview:
Dr. Greg Bear, Provost Arizona, 09.08.2010
University of West Carolina
Winston-Salem, NC 27105
Dear Dr. Bear,
I want to thank you for seeking me out and taking the time to meet with me about the proposed position of Special Assistant to the Provost for International Projects. I am truly excited about this position and the contribution I could make toward working with alumni, high-school teachers, volunteers, faculty, and international students.
You did an exceptional job of emphasizing the importance of the position to the continuing success of the company. I am convinced that I can develop new and straighten existed relationship with international education organizations and universities all over the world.
I also affirmed through the interview that my experience working well with students in my internship program and making positive contacts with new people in my last several jobs would contribute significantly to my success in the position.
Thank you again for your consideration of me. I look forward to the possibility of working with you.
Sincerely,
Alice Miller
Resume Writing Service will be happy to assist you with your Thank You Letter writing. All you have to do is to place your order with us as soon as possible!