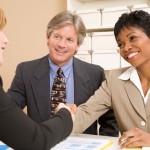 Resume Writing Service is aware that retail job interviews are not much different from any other job interviews. There are so many questions that can be asked. You should get prepared for them in advance.
Here you will find a complete and thorough list of all the required retail job interview questions from Resume Writing Service:
How will you greet your customer? Give me a sample greeting?
Explain three major qualities related to this job that you think you have?
"Customer is never satisfied". Please comment?
Do you think is it necessary for the retail person to have the knowledge of the products or the customer should know it?
Tell me our biggest accomplishment so far related to retail job?
How will you judge the needs of the customer?
How will you tackle an angry customer?
You have to sell me a product, how will you do it?
How can you increase the sales of my store?
What is the importance of patience in your job?
Are you an active listener? Quote some example?
Explain the importance of body language in retail job?
I am your customer and I am asking for a product that is out of stock. How will you convey me this? Demonstrate?
State some of major skills required for this job? Do you have these skills?
I am your customer and asking for a discount of 10% but you cannot grant more than 8%. Deal with me?
Do you think management is a necessary tool for retail job?
You are a recruiter and hiring a candidate for retail job. What qualities will you monitor? If I don't have speech clarity, will you hire me?
Where do you rate customer satisfaction in this job?
How will you remember the location of different merchandise in the store? Any ideas?
Give me some suggestions so that I can satisfy my customers beyond any limits?
You have caught a person who was stealing from the store. What will you do?
Does this job require social interactions or not?
How will you rate your creativity and power of judgment?
What is the importance of physical strength in this job?
ResumeWritingService.biz advise you to take some time to search and find out the answers to these questions for your upcoming retail job interview. Keep enhancing your interview techniques to have a better future for yourself.
In case you will need a perfect resume or cover letter written for you, don't hesitate to turn to www.resumewritingservice.biz for help