If you're convi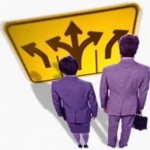 nced that career change is a right step for you, then ResumeWritingService.biz is sure that there is no time to linger! If you feel that current job doesn't suit you as it could be, don't waste your time and make first step. And to decide what to do the first in uneasy way to successful career will help next tips from Resume Writing Service:
Pass personal assessment tests. Such tests you might have gone through in your previous career planning to indicate the most appropriate for you jobs, but a part of your values has changed and you've certainly gain new skills, also personal interests can changed greatly, so personal assessment should be done once more. Such test can be found on the Web on resume writing services' sites.
Make a list of occupations that suit results of personal inventories. It should be not longer than 10 points.
Research attractive for you jobs on the Web. Get acquainted with several job descriptions in different companies to form objectively notion about requirements and possible scope of activity. The aim of this step is to limit your occupational list to the most interesting for you jobs.
Look through requirements and benefits of each occupation from your shortened list. According to www.resumewritingservice.biz you should get rid of invaluable for you jobs or positions that need too much improvement in yourself (unless, this occupation is the one and the most desirable).
When you determine the right option, start career planning, where you make a plan of your professional goals in new career and ways to achieve them in definite terms. Try to make long-term career plan, which will take into account children, parents and other changes in personal life.
Get prepared to the new job by getting additional education or trainings. Read once more requirements and make yourself a real implementation of them. Getting a new resume from ResumeWritingService.biz is also a good idea!
Say farewell to your current job! As you have to let know about your decision beforehand, you'll also have time to prepare to new job interview and assure people, who will give you further references. Don't hesitate: everything is changing for the better!
With our Resume Writing Service specialists assistance you are can leave your fears behind! Change your career courageously!