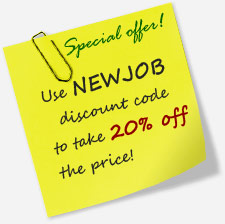 You are here because you are either unhappy with your current job, want to earn more money or you are unemployed and need a good job, TODAY! We understand each of these situations and putting you back to work with a professional resume is our business.
Your resume is the key to unlock the door of your new job. Why not invest a small amount of money for a professional resume and have confidence that you will stand out from the competition with every job you apply for. With a new professional resume you will prove that you are the ideal candidate for any job position that you are applying for.
Don't wait another day to apply for the job you want or need, every day that you are not applying is another missed opportunity. Our certified resume writers will provide you with a perfect resume or CV service that will get you the interview. Proven results, quality and experience is what our premium resume writing team can give you.
ResumeWritingService.biz is your employment partner to get you the job you want!
| | | |
| --- | --- | --- |
| Our services | Resume Writers | Tips & HowTo's |
| | | |
| Our services are tailored to meet your needs. We do resume and CV writing, we do resume and CV update or editing, we assist with you getting ready for the interview, we provide references verification, social profiles screening and resume distribution services. | We signed contract agreements with professional resume writers who are not only know how to write the resumes and CVs but also understand the hiring side's reasoning behind most of decisions they do. Our writers work directly with you, over the phone and email. We hired the best writers and career coaches to deliver you the best quality! | Experience and know-how on its applicability make our service unique. The former part of this tandem, an experience, is something we want to share with you, for free. Find resume writing and career development tips on this website from industry leading experts exclusively written for resumewritingservice.biz |
| read more | read more | read more |