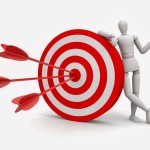 There's a lot of talk and a lot of articles about a resume being a "marketing tool". Most experts remind job applicants of the need to be competitive when writing a resume for a job. Despite all this, most people still treat their own achieved goals and successes like they were top secret on their resumes.
This shyness is a really good way of not getting a job. How are employers supposed to know you're a great employee who does great things, if you don't even mention what you've achieved? Mentioning your achievements and goals on your resume is an absolute essential.
What employers need to see on your resume
Your resume is your major career asset. It can get you a great job, and if you don't manage it well, it can prevent you from getting jobs. Your resume goals and achievements need to be part of the mix of information that employers see. If you need an example, look at our electrical engineer resume sample.

Achievements, performance indicators, and targets are major positives on your resume. Leaving them out is a real mistake. You're seriously reducing your ability to be competitive.
What you need to see on your resume
There's another issue, too, and this time it's about creating problems for yourself. The fact is that your resume is likely to be a very dull, uninteresting document, not standing out at all, without highlights and achievements.
Worse, believe it or not, is the fact that your achievements and performance indicators have shelf lives. Outdated information of this kind is a serious own goal.
Imagine you're looking at a resume where the most recent achievement was 10 years ago. Is that impressive? Is it interesting? It's not, really, is it? You need to maintain your resume, and upgrade it to reflect your current performance.
How to manage your achieved goals and achievements on your resume
You can include your achieved goals and performance indicators on your resume in different ways and different places:

As part of your resume presentation, you can include standout text inserts and graphics throughout your resume. This is the new, very chic, very efficient, "magazine layout" format, using these inserts to deliver information and manage space.
In your work history, you can also provide performance indicators, like beating sales targets, productivity figures, and other performance-related information. You'll be surprised how easy this is to do.
You'll be far more surprised, however, by how much better your resume looks. This information really does deliver a much greater impact. You can expect a lot more interest in your job applications and many more interviews.
So, don't be shy!
If you've got good information you can put on your resume, use it! Upgrade your resume now! Check out some of the latest resume writing formats online, and see how it's done. You'll be very glad you took the time to reinvent your resume.
Images are taken from: zestdigital.com, unemployedindesmoines.com, ways2capital.com.