How Do I Write a Response Letter to an Interview Invite?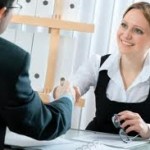 Many individuals usually neglect to write and send a reply in response to an interview invitation and this may be perceived as "normal" in some business sectors, but it is definitely viewed as unacceptable if you are applying for a position in top management, executive, sales positions or educational institutions.
By taking the time to express a certain measure of gratitude, you can demonstrate not only good manners, but also responsibility, consideration, timeliness and respect towards your potential employer. Sometimes, individuals are unaware that such a follow-up or thank you letter, although not necessarily demanded or requested, may tip the balance for or against their favor. The all to often asked questions of "How to reply to an interview invitation?", "How should I reply to an interview invitation so as not to compromise my chances for the job?", "What exactly should I write in a reply letter?", "How should I decline an interview invitation through a follow-up letter" or "How do I even begin writing a thank you letter?" can all be easily addressed if you order our professional services.


One of the most basic premises behind such a letter is not only to thank your potential employer for recognizing your skills and giving you an opportunity to present yourself, but also to confirm your attendance. These letters are not only written in case one needs to decline an interview appointment, but also to show one's prudence and good character. If you have received an interview invitation or are about to apply for a position and are in need of a professional writing service, then you have come to the right place. Our resume writing service will create a perfect interview invitation reply letter, follow-up letter or thank you letter in the most minimal amount of time possible to meet all your needs!
Resume Writing Service will create a winning reply letter for interview invitation for you.
Basic Tips for Replying to an Interview Invitation
Some advice to help you learn how to reply to an interview invitation:
Start off your letter addressing the person who contacted you with an expression of gratitude
Express your interest in the company or position applied for
Explain that you have an interest in learning more about the job
When concluding avoid displaying any arrogance, drama, inappropriate language, declining the interview immediately or expressing any personal opinions/views (Eg. "I think your company is making a mistake by supporting Obama's campaign.", "I think it is wrong that you have set an age limit on your candidates.", "I am a vegetarian", etc.)
Some Important Tips in Writing a Follow-Up Letter
Regardless of the format, always keep it professional – It is now acceptable to send out letters by post, email but the choice really depends on the importance of the position for you. If handwriting a note, try to use a plain, white notecard or cream-colored stationary. Try to avoid using extravagant mediums, colors or designs and stick with a minimalist style. If typing out a letter, follow a similar style to that of your cover letter so that they match in formatting, font and writing style. If sending an email, avoid the use of emoticons, slang, run on sentences, fancy words or casual language.
Try to send a follow-up letter as soon as possible – It is usually appropriate to send a thank you letter within 24 to 48 hours after the interview. However, if you know or suspect that the employer is potentially making a decision the same day, send a brief email within a few hours of the interview. Avoid sending out an email from your phone as soon as you leave the interview room as this would be perceived as an act of thoughtlessness. If writing to an educational institution or professor, try to send a thank you letter withing 3 to 5 days following a meeting.
Attempt to probe the person's memory – Quite often it is not unusual for an interviewer to forget you as they might talk to dozens of candidates for a particular position in any single day. Your first and foremost goal is to mention the position applied for, including the date, time and place of the interview. After this, be sure to mention a particular topic discussed during the interview that caught the interest of the contact.
Express your interest in the position once more – Reiterate specific duties or topics related to the position and rearticulate your strengths, experiences and skills.
Wrap up your business – Always express a willingness to answer any questions, provide additional information and be sure to include any information requested during the interview. This ensures that you keep an open line of communication with your contact.
Contact us now and we will help you create a letter that:
Uses an appropriate, professional language
Is based on the context of the job position and interview
Will reflect all the basic tips outlined above
Will be proofread, polished and formatted
Will incorporate your insight, input and comments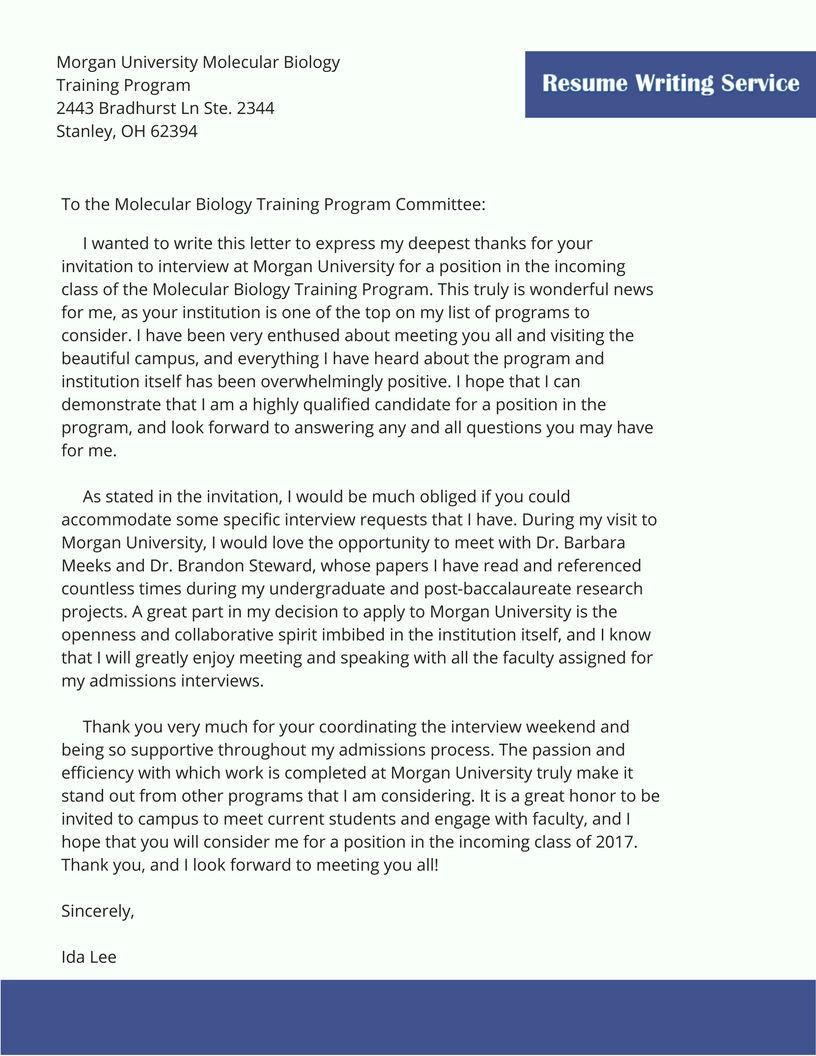 Why Choose Us to Help You Write Your Response to an Interview Invitation
Even though an interview invitation response is not a long letter, you can use the same techniques on how to respond to an interview invitation as for your resume or cover letter. Below are a few tips:
We are a leading resume writing service with many years of experience
Our writers are professionals who know the job market
You will receive a proofread, formatted and polished finished product
We take pride in helping you reach your career goals!
We work with you, for you!
Order Cover & Follow-up Letters Writing for $39.95 31.96* only now!
(*for new buyers only)