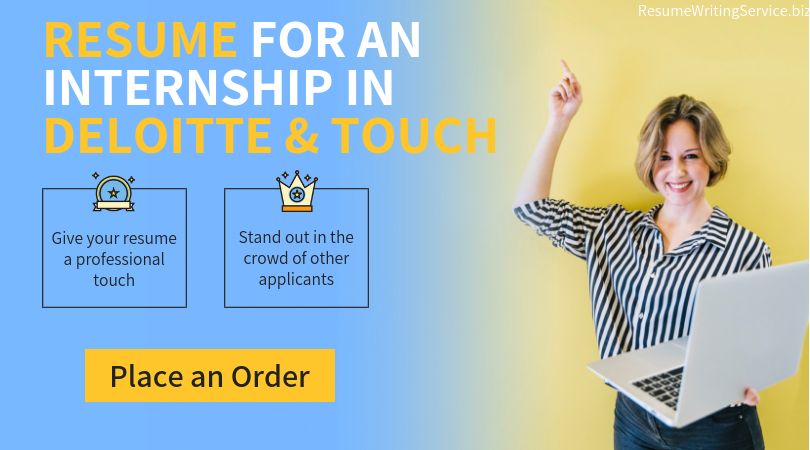 Audit Intern Resume for an Internships in Deloitte & Touche
The writers from our resume writing service want you to notice that "Deloitte" is the brand under which tens of thousands of dedicated professionals in independent firms throughout the world collaborate to provide audit, consulting, financial advisory, risk management, and tax services to selected clients. According to the surveys of internships based on salary, a proportion of students getting full-time jobs and students' feedback Deloitte was ranked in the first place. Each year more than 2200 internship opportunities are suggested. Just statistic numbers: $24.50 is paid intern per hour, 73% of the interns can get full-time opportunities, of which 82% will accept.
Among intern technical and professional responsibilities you will need:
Developing an understanding of the Deloitte & Touche audit approach, methodology & tools;
Establishment of working relationships with client personnel;
Performing analytical review of audit documents;
Reviewing of client accounting and operating procedures and systems of internal control;
Accounting and auditing issues identifying;
Performing research to solve issues that arise;
Exhibiting of professional, business-like demeanor;
Preparation of financial statement reports and documentation supporting Deloitte & Touche's audit opinions;
Applying concepts of risk assessment;
Designing and performing tests of internal controls;
Providing recommendations for improved controls and enhanced business efficiency.
Deloitte & Touche Intern Resume
During the internship you'll develop such personal and practical skills (see the difference between skills and experience):
Pass the CPA exam;
Take proactive career steps — set goals and career planning with advisor/career counselor;
Develop excellent professional oral and written communication skills;
Continually develop through our Deloitte Services LP Learning curriculum of eLearning modules and local and national training programs.
Support organization and function initiatives
Our Deloitte audit intern resume experts remind that the basic requirements for internship application are:
Pursuing Bachelor of Science/Business Administration or Master of Science in Accounting
Must meet minimum requirements to sit for CPA exam before beginning full-time employment
Strong academic credentials (Minimum GPA of 3.0)
Relevant work experience (e.g. internships, summer positions, school jobs)
Demonstrated leadership, problem-solving, and strong verbal and written communication skills
Ability to prioritize tasks, work on multiple assignments, and manage ambiguity
Ability to work both independently and as part of a team with professionals at all levels
Willingness to travel for out-of-town engagements.
Order from our resume writing service and we will craft a perfect resume for your Internships in Deloitte & Touche!