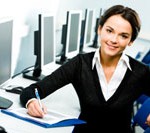 According to ResumeWritingService.biz, a choice of a company, where you're going to undergo your internship is very important in receiving the right conception of the job you're going to get further. Especially if you haven't any related work experience, first impression of your duties and profession can make you change your scope of activity or to dedicate your life for development of this industry. That's why Resume Writing Service thinks that choosing an internship is worth paying attention to.
Uneasy process of finding internship can take plenty of time and be quite stressful. Answering on following questions from www.resumewritingservice.biz will help you to reduce all unpleasant effects of internship choosing:
In what field or even company you're going to work?
You should identify your field, as every industry has its own requirements to interns and even specifics of resume writing.
Should internship be local or international?
If you're going to work for abroad company further it is reasonable to apply for international program. Furthermore, long-term internship can be a great opportunity to improve your foreign language.
When do you have time for internship?
According to Resume Writing Service summer internships are perfect for students and are a good alternative for popular season work. Part-time internships are suitable for undergraduates and help to be prepared for employment after graduation. Full-time internships are created for graduates, who have a lot of free time and want to develop professional skills.
Are you're going to get some money or skills development is paramount for you?
Internship can be unpaid, part-paid and in some companies be a good source of profit. ResumeWritingService.biz indicates that depends on the industry and company's size.
What kind of person are you?
Some internships require leader and managerial qualities, other – ability to work in team, creative mindset, readiness to work in stressful environment or fast decision making. Listen to yourself and get rid of uncomfortable work conditions.
As you see, there are a lot of points to think over before choosing an internship. It can also happen so that internship won't fulfill your expectations, but don't get upset and think positively: you've tasted only one variant and now you know more definitely what you want!
If you have already chosen an internship programme you want to participate in you need a winning resume to be written for you! This can be easily done by ResumeWritingService.biz! Order from us and get a professionally written resume for any job field!