LinkedIn Recommendation Generator
I Would Like to Provide Recommendations For:
(paste a name)
Erik Thornton
CEO at Company OOO
Nothing tells the recruiter that you are perfect for the job better than someone else recommending you. Having a third party say that you are perfect for a role will add a significant boost to your profile. But getting recommendations and knowing how to write them in an effective manner is not so simple. Our recommendations on LinkedIn examples allow you to see the structure and way that a good recommendation should be written. We can show you how to sound genuine without going over the top. Our experts have been helping job hunters for many years and fully understand just how to use recommendations on LinkedIn to their best advantage. We can provide you with all of the help and advice that you will need to quickly write an excellent and effective recommendation.
LinkedIn recommendation examples are additions in the LinkedIn profile development of a LinkedIn writer who wants to excel in a resume writing service through effective LinkedIn recommendation samples. Including sample LinkedIn recommendations will make it more attractive to employers who are checking for feedback based on the LinkedIn recommendation samples. LinkedIn recommendation samples and tips on how to create personalized LinkedIn recommendation templates are in this blog post so you will have a guide when writing sample LinkedIn recommendations.
How to Go About Writing a LinkedIn Recommendation That Rocks
Using simple LinkedIn recommendation templates to guide your writing or simply copying a LinkedIn recommendation sample for colleague is not always going to be effective. It is better that you fully understand how to write a recommendation that will actually work. Many recommenders will write something that is simply too wordy while not really adding anything positive, while others go overboard and the recommendation simply does not sound genuine.
The following tips will help you with quickly writing something that is going to get the attention of any reader:
Hook them in: the opening line has got to be an attention grabber. After all if it isn't they may not even read through to what you have to say. You must show straight away just how wonderful you think the person is.
Show how you know them: whether you are their boss, a colleague, or a subordinate they will want to understand how you are qualified to make your comments about them.
What do they do best? Share a specific skill or characteristic that makes them special. Just one or two is enough for a recommendation as you do not want to go over the top.
Show their personality: what makes them a great person to work with? It is always good to add something a little more personal rather than just work.
Recommend them: you closing should make a firm and definite recommendation.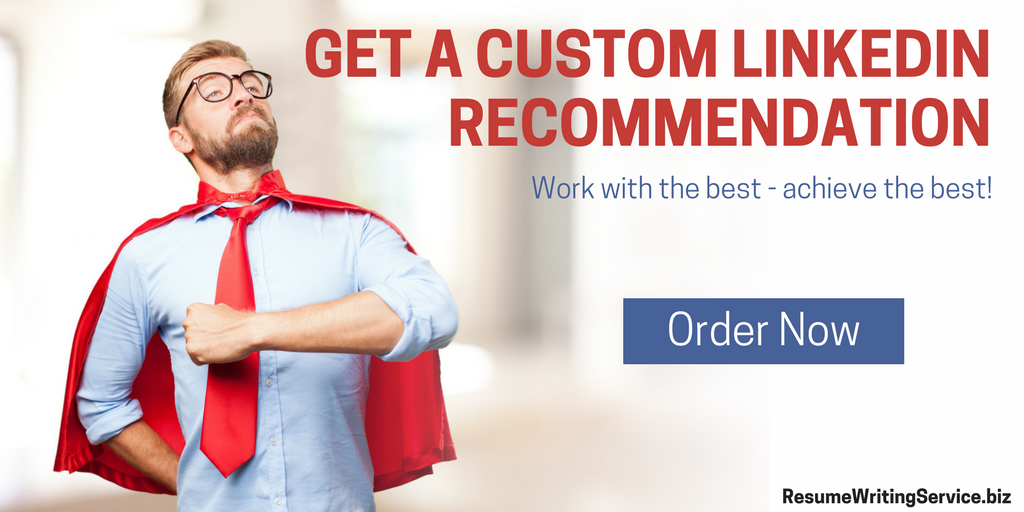 How Can You Get a LinkedIn Recommendation Sample?
Start by giving LinkedIn recommendations examples to people you know or have worked with. They can reciprocate by writing LinkedIn recommendations samples about your work. You can use some of the LinkedIn recommendation templates here.
Use LinkedIn's generic LinkedIn recommendation template by requesting examples of LinkedIn recommendations. Be polite when you request a LinkedIn recommendation example. Ask the person politely if he can write LinkedIn recommendation examples during his most convenient time. If you've worked together, consider including it in your request for a LinkedIn recommendation example to get personalized LinkedIn recommendations examples.
Powerful Linkedin Recommendation Samples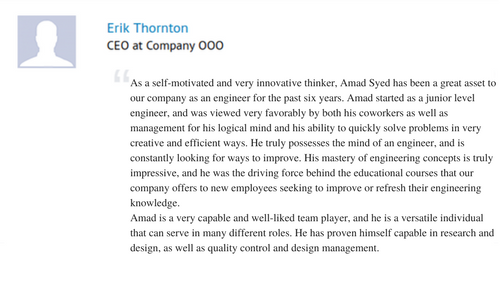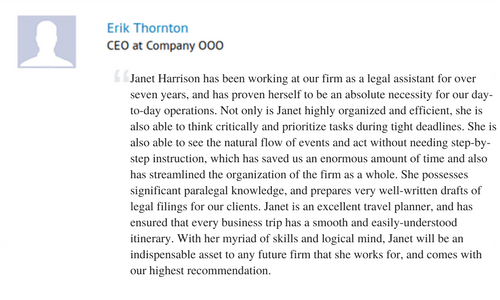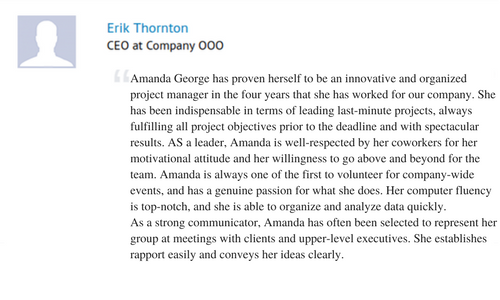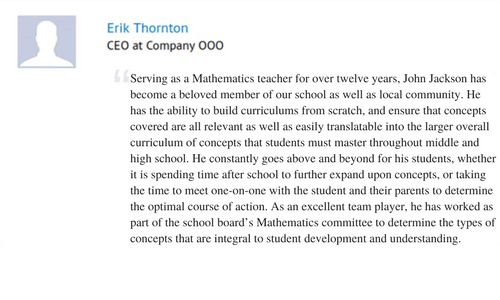 Best LinkedIn Recommendations Samples
Using the method listed out above will generate a quick and still effective recommendation of 5 lines in length. Writing anything longer may simply be ignored by anyone skimming through the profile. The following recommendation example LinkedIn will show you how yours should be written:
Bill is a whirlwind of energy that simply never stops. I have known Bill for 3 years working in the same Engineering department. I have always been impressed by his determination to get problems solved in a robust manner so that they never return again. Yet he still always has the time to help the rest of us. I know that Bill would be a real asset to any company looking for a good mechanical Engineer and I fully recommend him.
I have never seen anyone command total attention as quickly as Sam. I have been his team leader for 3 years and have had the opportunity to observe how he runs his improvement classes many times. His ability to inspire and teach his students is a skill that I rarely see. He also seems to instinctively know when things are starting to get slow and is able to make up a relevant joke that has the whole room wide awake and laughing before dragging them back on track. I have no hesitation in recommending Sam for any position in which he gets to train people in improvement techniques.
The old adage of "could sell ice to an Eskimo" is totally true when it comes to Genie. She has been working as one of my sales ladies for more than 5 years and I will be sorry to see her go. While she has some of the best sales skills I have seen her real skills lay with motivating the team around her which is why she was so quickly promoted to being team leader. She is also the captain of our bowling team and we credit her with leading us to victory in the local business league. With her skills and drive to succeed I have no problem with recommending Genie for any move into sales management.
All of the above are clear, to the point, and provide a positive recommendation that will benefit them on their LinkedIn profile.
How Can We Help with Writing a LinkedIn Recommendation?
Not only can we show you the best LinkedIn recommendation samples we can also offer you full support with your writing. From recommendations to your profile our recruitment specialists fully understand what really works on LinkedIn. They are able to work with you to provide a recommendation that will be highly effective as well as perfectly personalized for the individual you wish to recommend.
If you want to write as well as our recommendation on LinkedIn examples just get in touch with our recruitment specialists that offer effective and reliable help at a price that anyone can afford.