Accurate Resume Proofreading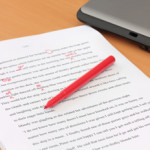 When it comes to completing a resume there are a ton of different things that go into it, and people often struggle in finding a way to be successful with all of them. You need to isolate the things that you are best at, specialize your resume towards the job that you're applying for, make sure that you get the most out of every sentence, and that your resume is a unified and concise document that effectively communicates everything about you an employer needs to know. A large part of accomplishing this is in the proofreading. The most important overall thing about a resume is that it expresses professionalism, and it's in the proofreading and resume editing process that you accomplish this.
Professional Resume Proofreading Service
We're here to make sure that your final resume is the best it can possibly be, and that there are no mistakes or problems with it by the time it gets into the hands of an employer. We do this by carefully going over each aspect of your resume and looking for specific problems.
Spelling is the most basic thing that we look for, as a misspelled word can be detrimental to your attempt to be professional.
One of the most important things that we find and fix is grammar. People often struggle with getting flawless grammar, and poor grammar can reflect poorly on your communication skills as well as make your resume less professional and more difficult to understand.
If there are any problems with style or formatting then we will fix these as well.
Overall we make sure that every part of your resume, and everything that may affect the final result and quality of it, will be nothing short of flawless!
Go with the resume editing and proofreading service that you can count on!
Many people wish that they had a service to "proofread my resume", but few people actually find one with the capability, professionals, and dedication to do a good job. That's what our service is here for, to provide you with an option that's accessible, reliable, and that offers you nothing but the highest quality results and the best experience!
Order Resume Proofreading for $54.95
43.96*

only now!

(*for new buyers only)