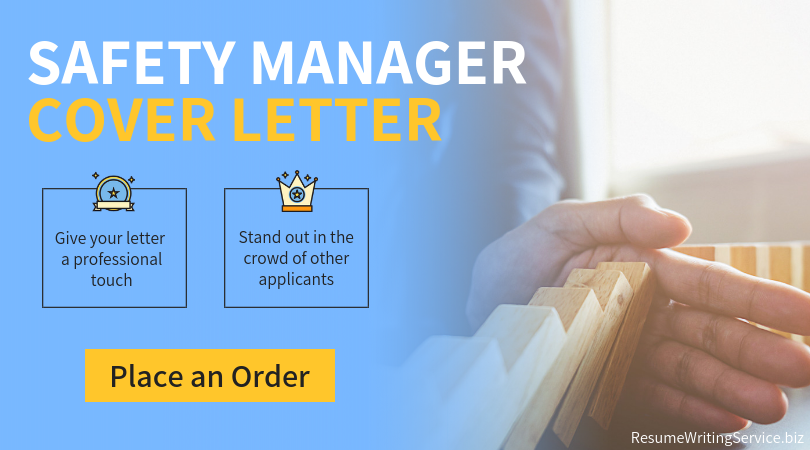 Safety manager cover letter is the first thing that the potential employers will focus their attention on, it needs to provide brief yet effective self-introduction to motivate, engage and intrigue the reader to proceed further to reading your resume. How should a resume for safety manager look like to be effective and fit the latest trend in resume writing? There are no certain regulations considering the template style and the formatting rules for a safety director resume, however, the main requirements are mainly based on the content that you put in it.

In the nutshell such type of resume should never fail to demonstrate:
A commercial knowledge (in other words how the business works from the inside)
People skills (soft skills and people skills are essential for every type of job nowadays)
Excellent verbal skills (to encourage people to improve their safety habits)
Being able to work with senior management
Leadership skills (for being able to influence people and share the information about safety issues)
Knowledge of OSHA and EPA standards and track incident metrics
Ability to analyze and process the information (for accident reports evaluations)
Ability to evaluate, assess and alter safety procedures within the company and generate suggestions for improvements.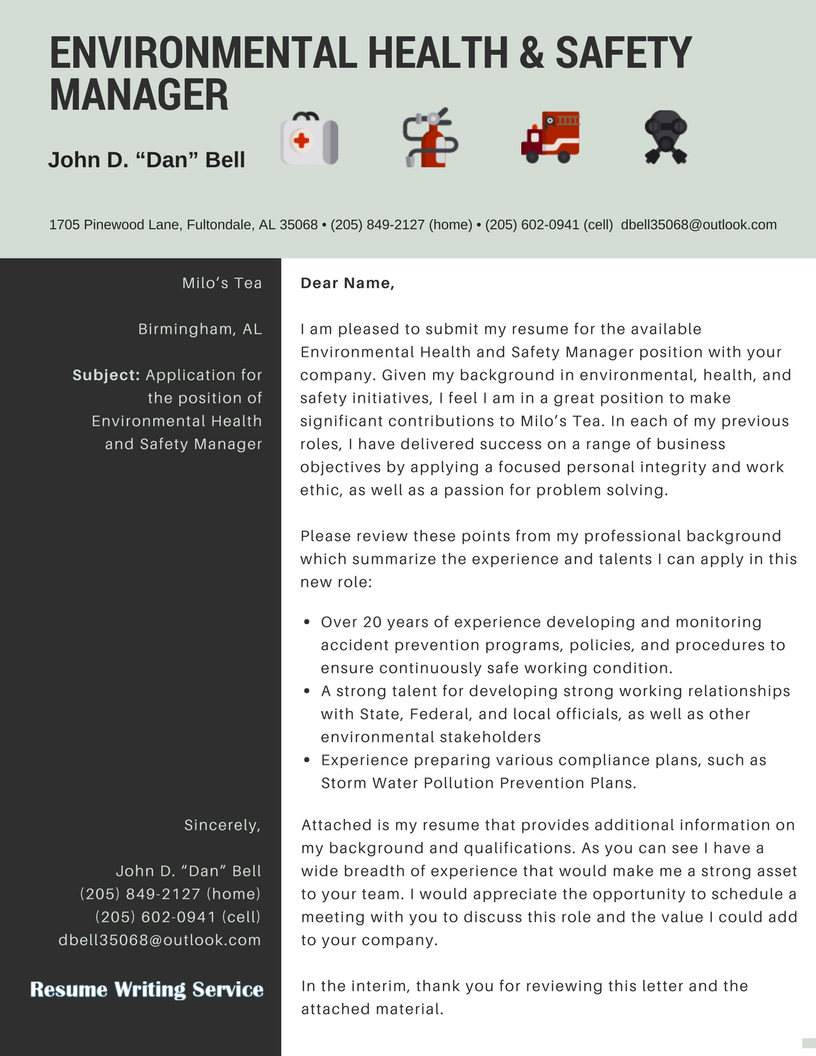 Importance of Well-Written Safety Manager Cover Letter & Resume
Writing a cover letter is an important part of the process, so check our sample to make sure you do it right. You need to prepare a good safety professional resume in advance, so you might also want to review this successful environmental health resume example. Read through the following piece and learn how to prepare a worthy piece of your first self-presentation.
John D. "Dan" Bell | ENVIRONMENTAL HEALTH & SAFETY MANAGER
1705 Pinewood Lane, Fultondale, AL 35068 • (205) 849-2127 (home) • (205) 602-0941 (cell) • [email protected]
Date
Milo's Tea
Birmingham, AL
Subject: Application for the position of Environmental Health and Safety Manager
Dear Name,
I am pleased to submit my resume for the available Environmental Health and Safety Manager position with your company. Given my background in environmental, health, and safety initiatives, I feel I am in a great position to make significant contributions to Milo's Tea. In each of my previous roles, I have delivered success on a range of business objectives by applying a focused personal integrity and work ethic, as well as a passion for .
Please review these points from my professional background which summarize the experience and talents I can apply in this new role:
Over 20 years of experience developing and monitoring accident prevention programs, policies, and procedures to ensure continuously safe working condition.
A strong talent for developing strong working relationships with State, Federal, and local officials, as well as other environmental stakeholders
Experience preparing various compliance plans, such as Storm Water Pollution Prevention Plans.
Attached is my resume that provides additional information on my background and qualifications. As you can see I have a wide breadth of experience that would make me a strong asset to your team. I would appreciate the opportunity to schedule a meeting with you to discuss this role and the value I could add to your company.
In the interim, thank you for reviewing this letter and the attached material.
Sincerely,
John D. "Dan" Bell
(205) 849-2127 (home)
(205) 602-0941 (cell)
[email protected]
Get Your Resume for Safety Manager Written by Expert
Safety manager resume is a chance for the safety professional to express professionalism and bright individuality. In the resume, you can show your career aspirations by providing the relevant examples and your true achievements. Make sure your cover letter is effective and strong enough to stir the reader's urge for reading your curriculum vitae and evoke the desire to familiarize oneself with your full potentials.

You may ask our experts to help you with:
Food safety manager resume
Environmental health and safety manager resume
Transportation safety manager resume
Construction safety manager resume
Plant safety manager resume
Quality and safety manager resume
Having a professional writer working for you to craft an attention-grabbing safety manager resume makes it so much easier to achieve the desired result! Don't hesitate and get in touch with us today!
Order effective safety manager cover letter now! Unleash your perspectives!