Written by Maryna Mazurenko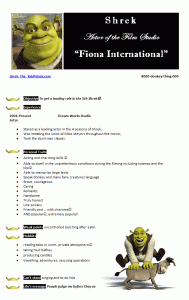 Shrek
Actor of the Film Studio
"Fiona International"
shrek_the_kid@shek.com 8000-donkey-thing-000
ObjectiveTo get a leading role in the 5th Shrek 🙂.
Experience
2001-Present Dream Works Studio Actor
Stared as a leading actor in the 4 seasons of Shrek;
Was imitating the voice of Mike Meyers throughout the movie;
Took the stunt man classes.
Personal Traits
Acting and charming skills 🙂
Able to dwell in the unpretentious conditions during the filming including swamps and the like 🙂
Able to memorize large texts
Speak donkey and many fairy creatures language
Brave, courageous
Caring
Romantic
Handsome
Truly honest
Like privacy
Friendly and … with charisma 🙂
AND popular :), extremely popular!
Weak pointsuncontrolled belching after eating too much (sorry)
Hobbies
reading tales in umm…private atmosphere 🙂
taking mud bathes
producing candles
travelling, adventures, rescuing operations
Can't stand singing and to-do lists
Life's messagePeople judge me before they even know me!
---
The celebrity resumes on this site are not real. Ones are made up to show how they could look like. The resumes provided have nothing common with real life of celebrities.