Written by Maryna Mazurenko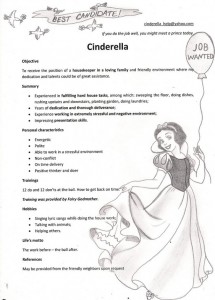 Cinderella help@vahoo.com
If you do the job well, you might meet a prince today.
Cinderella
Objective
To receive the position of a housekeeper in a loving family and friendly environment where my dedication and talents could be of great assistance.
Summary
Experienced in fulfilling hard house tasks, among which; sweeping the floor, doing dishes, rushing upstairs and downstairs, planting garden, doing laundries;
Years of dedication and thorough deliverance;
Experience working in extremely stressful and negative environment;
Impressing presentation skills.
Personal characteristics
Energetic
Polite
Able to work in a stressful environment
Non-conflict
On time delivery
Positive thinker and doer
Trainings
12 do and 12 don'ts at the ball. How to get back on time.
Training was provided by Fairy Godmother.
Hobbies
Singing lyric songs while doing the house work;
Talking with animals;
Helping others.
Life's motto
The work before – the ball after.
References
May be provided from the friendly neighbors upon request
---
The celebrity resumes on this site are not real. Ones are made up to show how they could look like. The resumes provided have nothing common with real life of celebrities.