In order to be successful in obtaining a job interview that leads to getting hired you should have the best executive CV. Employers have specific criteria to look for when they sort through the many applications they receive. In the case of executive CV writing, you have to demonstrate that you have what it takes to succeed in a particular position. When you place an order for a CV, executive resume writers will research the company or the job so that your curriculum vitae will meet the needs of the employer. This is a common feature of the services we offer at resumewritingservice.biz.
What We Need for Your Executive CV
When you submit an order for our executive CV writing services it is essential that you send us whatever information you have about your career so far. This includes a copy of your resume, notes about your experience and accomplishments you have achieved. When we preview the material you send we will then assign a CV executive writer to work with you. Soon after you submit the order you can expect to receive a telephone or Skype call from this writer to discuss what you need in an executive CV.
Writing a Concise Executive CV for You
The format of an executive CV is very significant. Due to the wealth of experience you undoubtedly have as an executive you will probably have a long list of details to include about your training and skills. The goal of our executive CV writing services is to make sure that we provide the employer with the essential information related to the job posting and still stay within the normal three page limit for curriculum vitae writing.
The very first sentence of an executive CV should grab and hold the reader's attention. We have the expert resume writers to fulfill this need for you. It is important that the reader go through the full CV to have a full grasp of your abilities. We make sure you receive the best assistance from resumewritingservice.biz.
Executive CV
Getting an executive position is often a very thorough and arduous process, after all these are some of the most important positions in the company that will largely determine it's success, and thus in the job search for such a position you need to take advantage of any tool and opportunity you have to separate yourself from the other applicants. One such opportunity that people often overlook or don't give its full required attention is the CV. Most people look at the resume as the primary document for attaining a job, but the executive CV will also play a huge role and is sometimes used primarily to make job considerations. It's easier to read and allows you more room to communicate the things you find important and relevant, but writing good executive CVs is not always easy.
Professional Help with Executive CV
The toughest part about writing executive CV's is that you have to turn much of the important information into a narrative, so you have to make it more intriguing and as informative as possible, which with the few words you have is no easy thing. The good news is our professional service is here to help! When it comes to the CV for executive positions we've got unparalleled professional expertise from working with all different kinds of executive CV. Our pros know all the tricks and techniques to crafting the highest quality and most effective executive CV, and whatever kind of help you need or whatever you're looking for you can count on getting the best from us every time!
About Us
We started this service because we know how tough it is to find an executive job, and we know how important and challenging it can be to write an executive CV. You have enough stress and pressure on your shoulders in doing this, so why not take a little off and improve the quality of your executive CV along with the way with the help of our professionals? We hire only the most professional executive resume writers. If you just want some tips and advice we can do that, or if you want hands on assistance o to complete your CV we're happy to do that as well, as long as it's got to do with the executive CV, we've got the professionals to assist you! We have a rigid hiring process in place for hiring each writer for executive resume writing, therefore we would never hire a biologist to write a bookkeeper cover letter.
The Requirements of an Executive Curriculum Vitae
When applying for a job in an often crowded field, it is absolutely essential to have an executive CV that keeps you ahead of the pack. If you are a seasoned professional searching for a new career path or a graduate fresh out of college, executive CV writing is necessary to take you to the next level. If you are not able to produce your own, luckily there are several companies available out there that can produce one for you. However, we at ExecutiveCV.biz are one of the leaders in the industry, assisting thousands of clients to procure employment through our executive CV writing service. We tailor-fit the executive CVs we produce for you to truly spell out and showcase your illustrious achievements and career paths that should be noted.
Delivering a Polished Executive Curriculum Vitae Every Time
Consistency, thoroughness, and prodigiousness are just some of the adjectives used in connection with the services we provide. Every CV that we create is keyword-rich to attract employers as well as detailed in displaying your strengths and success rate of past events associated with the position you're applying for. At ExecutiveCV.biz, we only use the most certified resume writers in the industry to work with us and with you. As part of our service to you, we do not only write a stellar CV for you. We also include consultation at no additional price, as well as free revisions and career advice in regards to your job search. There are no difficult worksheets to complete for our services. Once we receive all of your information, we begin working on your CV the same day. We are confident that our services will win you over as they have countless before you.
The Curriculum Vitae You Deserve
You deserve the best document possible when it comes to your curriculum vitae. Something that shows you in the best light possible and wins employers over for its effectiveness. We have the capacity and skills necessary to ensure that the CV we deliver to you is pitch perfect.
What Is an Executive CV?
An executive CV is a document that narrates and communicates your life's work and accomplishment in an attempt to get a CV position at a company. An executive CV has to have a focus on executive work and paint a picture of someone who can handle great responsibility and duties.
You want to include all the important and relevant things to your career, but you want to focus on things that will be relevant and useful to the position for which you're applying. Create a unified image of yourself not just as someone who's accomplished a lot and is consummately skillful, but whose career has been built towards this position and is ideal for the job.
Is Writing an Executive CV Difficult?
Yes, writing a CV is very difficult because you have so much to communicate and you need to do so not just in an informative way, but to make it interesting and intriguing to the reader. It's about choosing the right way to present things, and this is never easy.
You Need an Executive Resume Writer
An executive resume writer is a writer of the highest caliber, well-versed in business and what to expect with a resume. The best executive resume writers understand the market and how human resources managers think. They know which skills are marketable and which ones to avoid mentioning. As the winds of trade are ever-shifting, an executive resume writer and a federal resume writer have their moist finger always pointed at the sky and feeling for a change of weather. Trust the best executive resume writers to steer your ship of fortune in the right direction by contacting us today!
Federal Resume Writers Ready to Work for You
Professional federal resume writers are ready to get to work on any project you can throw at them. Whether it's a small adjustment or an entire restructuring of your resume scaffolding, federal resume writers know what to do and how to do it. A federal resume writer does not take flights of fancy or whimsical dalliances with your resume in order to satisfy some personal need to keep life interesting. A federal resume writer knows what recruiters are looking for and will tailor a resume precisely to target the reader. All federal resume writers understand that career prospects are improved many times over with a finely tuned resume and are excited to put their mental tuning forks to bear with a hard work ethic designed to get your resume in the best of shape.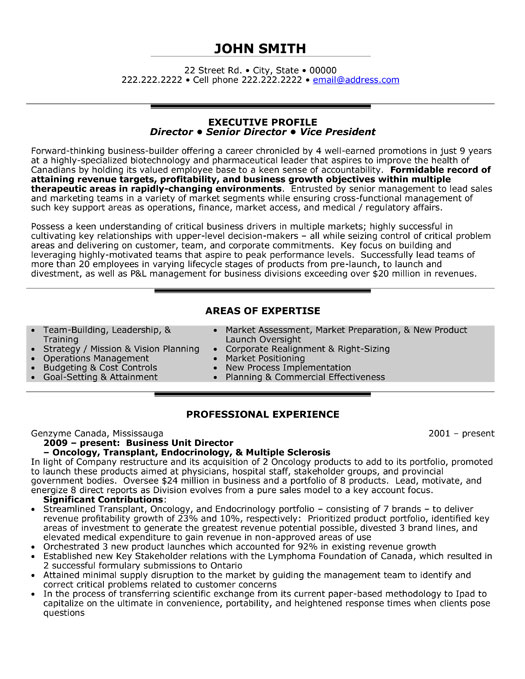 Get a Perfect Executive Resume
from Professional Writers
---
Appealing Design and Format
Focused on Your Strength
Highlights of top Achivements
Flawless Result-oriented Texts
---
Order a Custom Written Resume
for $141.05
The executive director position is one of great responsibility and importance, and thus employers looking to fill this position always exercise great care in finding the best possible candidates no matter what. This judgment is usually determined based on the resume, and crafting a resume for such an important position is often a very stressful and challenging task. The resume samples executive director is one of the easiest way to pick up the basics and some techniques on how to craft a high quality resume of your own, and our professional service is here to provide you with nothing but the best executive director sample resume so you get the best possible resume of your own!
Professional Executive Director Resume Sample
When writing a resume for executive director not only do you want to express your skills and accomplishments, you want to show the employer how you can function in the real world and how you apply your skills to real situations, and this is done by crafting a meticulous and complete image of yourself as the consummately ideal candidate. A professionally written sample executive director resumes is a great way to learn how to do this, our pros have written a range of the best samples on the web that you can count on to:
Learn how to craft an executive director resume of your own
Show you an example of the kinds of experience and skills that employers are looking for
Give you an idea of what other applicants' resumes will look like and how to get ahead
Get Your CEO Resume Sample Here and Get the Best Resume of Your Own!
It doesn't matter how accomplished and skilled you are, if you can't communicate this in an effective resume your chances of getting such an important position aren't great, so why not make sure that you come up with the best by going with the best executive director resume sample from our professional service? It's an easy way to learn how to get the job done and can save you a ton of time and effort while helping you get an even better resume than before!
Executive CV Writing Service
The toughest positions to get in this still quite tough job market are executive positions. These are the ones that are most prestigious, most competitive, and ultimately that you have to do the best and most thorough job with proving yourself. One aspect of the executive job application that can play an important role in your success is the executive CV. Whether you need a sales executive CV, an executive assistant CV, or a senior executive CV, you need to come up with one that will be not just thorough and effective in portraying you as the ideal candidate, but that will communicate all the necessary information and do so in an intriguing way to a potential employer, and all these things are tough to accomplish in one document.
Professional Executive CV Writing Service
The main reason that people struggle with the executive CV is simply trying to tell them everything relevant and important in a way that's interesting enough to hold their intrigue and to help you stand out as a candidate, and the good news is this is what our team of professionals specialize in! Our pros have experience in completing many different kinds of CV, from the marketing executive CV to the account executive CV, and they can bring their specialized expertise and experience to your CV today to help you get the job! We're here to provide you with any kind of help you're looking for and to make the CV writing process easier and more effective, so let us help and make your life easier today!
Writing a Great Executive CV is Possible
It used to be that if you wanted to get a great executive CV you had to pour hours of diligent effort and time into it to get the job done, as well as have a good deal of skill, but now all you have to do is head over to our site and you're only a few clicks away from the best possible executive CV! With our professional executive CV writing service your chances of getting the job go up and you save time and work along the way!
The Best Executive Resume Writers Online
So act now and hire one of the best executive resume writers available anywhere. Our online team will assign an executive resume writer for you quickly and make sure that he or she is fully informed of everything you need. Act now to meet with our federal resume writers and get your jalopy of a resume repainted and ready to present to the used car consumers that are job recruiters. Contact us today! Set your career in the right direction!
What Can Your Service Help Me With?
We offer everything from tips and advice to hands on help to completing your CV for you. It doesn't matter what your CV is about or what position it's for if you need to know how to write an executive CV or need help with writing a CV we're the place to go! We've got professionals with extensive experience in helping people get the difficult executive positions they're looking for by producing top-notch CVs. We've provided all different kinds of help for many different types of executive CV, and you can be next!
How Does Your Service Work?
Not only will our executive resume writer work with you throughout the writing process but we also provide interview coaching and LinkedIn profile development. Just go to our site and fill out the order form with the information required to complete your executive CV or provide you with the help you need and we'll assign a professional and get right to work, it's that simple!
Executive CV writing is best left to professionals who know what they are doing. Getting this expert help by placing your order!