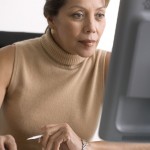 Online resume formats include ASCII Text, HTML and PDF. Some employers prefer receiving exactly these resume formats, because they don't require time to open attachment and look the same way on all laptops, so that recruiter can decide in a minute whether job-seeker worth attention. Despite these advantages, there are some problems peculiar to online resumes, such as poor formatting, that incline resume writers to choose doc format in most cases. Resume Writing Service is about to give you some hints how to use advantages of online resume not losing on its quality.
Resume Writing Service knows how to write outstanding online resumes!
To increase efficiency of the online resume, plain-text resume should be:
written in Courier typeface, 10-12 points type size, left justification, without bolding (acceptable only for resume headings), italics, underlining and bullet (instead you can use astericks or hyphens).
without graphs and photos: keep your resume simple.
rich on keywords. For online resumes, as well as for scannable versions, the amount of keywords is vitally important: resume writers can use even industry specific jargon and acronyms in text body (what is inacceptable in formatted resumes) to increase buzzword density. If you hesitate in some abbreviations you can provide both variants with acronyms written out.
structured. Don't neglect resume structuring and follow traditional resume formatting: contact information, job objective, work experience, education, honors, training and certifications. Ensure yourself that all these paragraphs are legible, especially resume objective.
accompanied with a cover letter. As well as your resume, cover letter should be in ASCII format and be added to one letter. Start your email with the cover letter text and finish it with resume writing. The best and the safest variant is attaching pdf or doc resume to the mail, so that HR department will be able to print an attractive version if they need.