If you're not confident with your resume, there are a few things you can do about that. You can send your resume in to an agency for an evaluation and rewrite, for one thing. Alternatively, you can get a free resume evaluation done by a professional.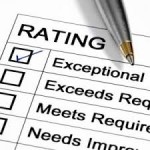 Free resume evaluations are services provided by employment industry experts. These resume writing services are typically offered on a strictly ethical basis to help job seekers with their problems.
What you need to know about any resume evaluation
A resume evaluation is basically an analytical process. Each element of your resume is evaluated for:
Information quality – The information which your resume contains, relative to industry standards and specific needs of individuals. If your resume lacks relevant information, its quality is obviously deficient, for example.
Presentation – How your information is presented does matter, a lot. A poorly presented resume tends to get a lot less interest from resume readers.
Structure – The way your information is organized is also very important. Resume structures need to be easy to navigate, well integrated, and deliver high value information in a logically structured way.
Layout – Layout can be a major issue. Some resumes, like functional resumes, work best using what's called a "magazine" layout, which is basically a fitted series of elements, laid out much like a magazine with feature insets, graphics, etc.
How free resume evaluations work
Generally speaking, a free resume evaluation is offered in several ways:
As part of a service offered by a resume writing service – The writing service evaluates your resume for free, and then offers a paid service, if you want it. This is a quid pro quo, building in value. It's also cheaper and does actually save you money, compared to an all-paid service.
Free service from online experts – With this type of service, you simply send in a copy of your resume for a free evaluation. This is a no-pay service, and it's often a very useful, genuinely helpful service. This type of service is particularly valuable for entry level job applicants and those having real trouble with getting interviews.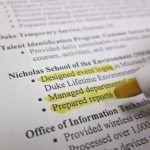 The value of free resume evaluations
The core value of the free evaluation service is finding problems and explaining the fixes. This can be a particularly good, very valuable service. Paid resume writing services which offer evaluations are not cheap. You're getting real value with a free evaluation service.
The other, lasting value of a free evaluation is the "coaching" aspect. This is like training, but tailored to your needs. Most people aren't very good resume writers. They need feedback, and most DIY resumes do need some panel beating by professionals.
A free resume evaluation points out the issues, explains the problems and offers solutions. The average dollar value of a free resume evaluation is about $70 – $120, depending on degree of complexity and time spent.
For more information, and to see an example of a free resume evaluation service, see this link.
Images are taken from: duke.edu.