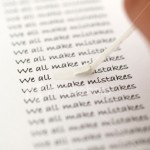 There is no doubt that a cover letter can become your new career pass and be a catalyst of hiring process. On the other part unsuccessfully composed cover letter can become an inhibitor of your career development and avert employer's interest from your candidacy for many months. How to be sure that your cover letter is the one that works on you? Just check the list of the most common cover letter mistakes made by Resume Writing Service's experienced cover letter writers!
So, you are on the false track, if your cover letter:
Job applications without cover letters are totally uncompetitive! Resume Writing Service strongly recommends you to devote some time to targeted cover letter writing or to ask for our help.
is addressed to "Dear Sir/Madam"
Cover letters writers should always be aware of recruiter's, hiring manager's or employer's name. That information is usually provided with a vacancy description or could be found on the company's website. In a pinch you can call the company and ask who is responsible for hiring on applied position there.
includes a boring opening paragraph
First paragraph is the most crucial, therefore it should be dynamic and hooking. Focus your attention on underlining here your skills and experience that is essential for applied position.
has more than 7 paragraphs
The ideal cover letter size presumes 5 paragraphs and no more than 300 words. Long cover letters, even if they are strongly relevant to the applied position, divert reader's attention from the first sight.
That's true that main accomplishments and relevant educational background should be rehashed in a cover letter, but these key points should be regarded in view of applied position. In addition to them, some outstanding accomplishments or explanations should be provided. Don't forget that cover letter writing is an excellent chance to clear every questionable resume detail.
Never send one cover letter to different employers! This personal reference should be very targeted and position-relevant. Cover letter writer has to show insight in company's affairs; moreover, he should say how he can contribute to company's success.
Misspellings and typos are the worst thing that can be imagined! They destroy positive professional impression completely and irreversibly.