Wondering how to make a successful CV? With new formatting ideas and much better modern presentation, you'll be surprised how easy it is to create a very effective CV.
CV basics
A successful CV is based on good presentation, a good layout, good formatting and above all, on good information quality. This is very much a communication exercise, and the basis of good communication is clarity.
When writing CV, keep it simple, straightforward, and easy to read. Each part of the CV should contain useful information. More is definitely not better, when writing your CV. Focus entirely on quality of information.
CV elements
Each section or "element" of the CV requires careful attention. This is a very basic range of CV elements:
Personal profile – Your personal profile is essentially your identity to your readers. This part of your CV sets out your personal status. Objectives and career goals may or may not be included in this part of your CV.
Skills – This is a modern addition to standard CV format, and it is extremely useful. The skills section in a modern CV operates very much the same way as in a functional written resume. Successful CVs include a well thought out, targeted skills section. This section can be tailored to meet job criteria and match keywords, too, so it is extremely important to spend some time polishing up your skills section.
Career history – The modern CV uses a much less extensive career history than old-style CVs. The difference is that the modern CV includes better organized and more relevant current information. Modern CVs do not include ancient job history as they did in the past.
Achievements – The achievements part of your CV needs to deliver quantified, measurable information relevant to the job application. This information can be provided in graphic form, or highlighted in a text insert. Achievements can also be included in the work history directly with each entry. (The main problem with this methodology is that achievements can use up a considerable amount of space on your CV.)
CV layout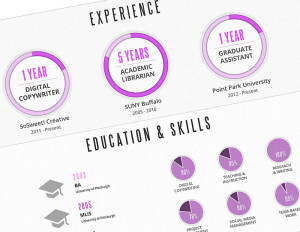 The modern CV layout is almost nothing like old-style CVs. Before you decide on a specific CV layout, it's advisable to check out the latest CVs online. Compare CVs, and you'll notice that some CVs read a lot better than others. They're more interesting, and they are much easier to read.
The more modern CV layouts include what's called "magazine" format. This layout is particularly good for managing space. Text is effectively inserted in blocks, and space is managed very efficiently. Using this formatting you can even include sidebars and graphics.
A word of advice at this point – Don't simply cut and paste your old CV material on to your new CV. You'll eat up your available space very quickly. Be patient, and fill in each section of your CV with brand new material. This approach allows you instant control over your space. You don't have to spend time chopping and changing your information on the document, either.



For more information about new CV layouts see this link.
Images are taken from: english4every1.net, english4every1.net.