Before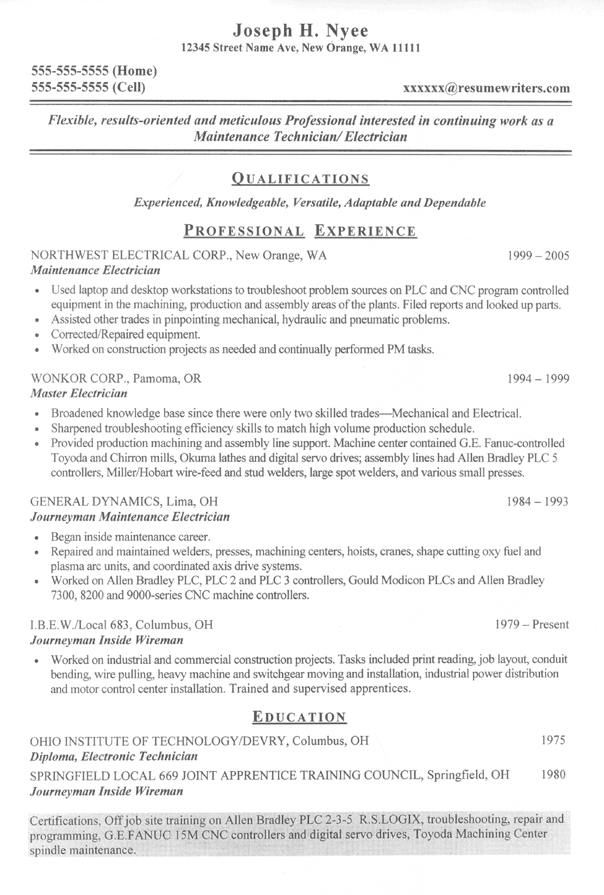 After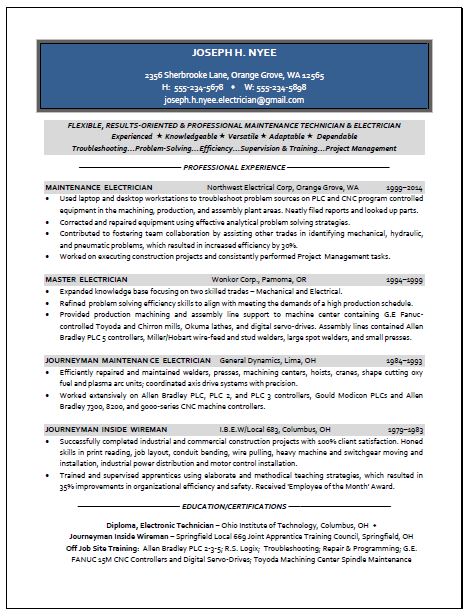 Meet Our Top Resume Writers
Professional Resume Writer Jillian

As a Certified Professional Resume Writer (CPRW), I create resumes and cover letters that sell the client in the best possible way for the position he or she is seeking. As a certified resume writer and career coach, my client experience runs from recent high school and college graduates to senior executives, and my industry experience is wide. In job search, it is all about selling yourself and my job is to provide the tools and guidance to do that most effectively. Hi, I really liked both the cover and thank you letter. I would like to keep both ast and sales experience in cover letter. I think resume looks great.Also I would like to thank you for all your help. My resume is just way i wanted to be. Simple and to the point.
Our Services Include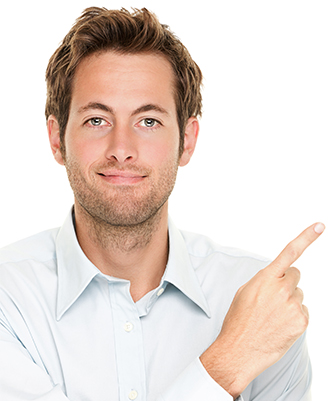 The sample is applicable as:
Electrical Engineer Resume
Marine Electrical Technician Resume
Electrical Technician Resume
Master Electrician Resume
Maintenance Electrician Resume
Maintenance Technician Resume
Journeyman Maintenance Technician Resume
Journeyman Maintenance Electrician Resume
Electronic Technician Resume
Recruiter's comment:
The example above is an example of a standard resume template that can be used to apply to most job vacancies. The above applicant's entry level electrician resume shows how he expanded his career gradually, working through entry level jobs to a master electrician designation. However, the resume can look much better! Keep in mind this template is available for editing by our professional resume writers who have experience writing resumes for electrician and other engineering jobs. We can assist you in meeting all employer expectations!
Working as an Electrician or Electrical Engineer:
The working conditions that electricians usually encounter can be highly strenuous and harmful to health. Electricians are prone to experience risky situations that may lead to personal injury from electrical shock, cuts, falls and magnetic radiation. All these aspects allow an electrician to ask for additional financial rewards in the resumes electrician submits. It may also involve working in a variety of confined environments that can be dusty, wet, hot or cold. The job may also involve traveling long distances to a specific site, possibly up to 150 miles away and working a 40 hour workweek with additional overtime hours which should be mentioned in the resume for electrical technician.