The use of keywords in resumes has baffled (and annoyed) job applicants for a long time. The problem is that these keywords are an integral part of the makeup of the application processing systems.
Application Tracking Systems (ATS) are designed to rank applications on keywords. That's the environment you have to manage. So it's worth your while learning how the keyword system operates.
Keywords for resumes, the basics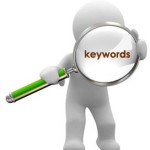 The usual job ad includes a range of keywords which applicants must use. ATS systems are analytical tools. They analyze applications to find the best matches of skills, and obviously, keywords are part of the analysis process.
The ranking system will discard applications that don't meet a required range of matches. It's that simple. Applicants have to make the cut, and keywords are the primary screening tools for getting your application through the door.
There's another issue, and it's far from simple, or obvious: Every organization uses its own criteria and keyword ranges. You can't use the same application for the same job with two different organizations. You need to tailor your application to match specific job criteria.
Managing keywords for resumes
It's not as hard as it might seem to manage keywords, but you do need to understand how to identify and use the keywords properly:
Identify keywords for essential and desirable job criteria. These are typically basic descriptors, like skills, job titles, and similar high-relevance terms. Most of the important keywords are logical search terms and easy to spot.
Customize your resume to use these keywords. Use the same terminology as the job ad. The ATS must be able to read your application, spot the keywords and tick the boxes.
You can use the job description as a reliable guide to the core information and keyword requirements. Write your resume on the same fundamental lines.
Check terminology. Buzzwords are a common problem, but they're also often easy to spot as keywords.
Each organization's terminology needs to be used. Some organizations call their customer service people "consultants"; others call them "sales", for example. Use the same terms as the job ad.
Keep your resume layout pretty simple. ATS systems aren't infallible, or anything like infallible. A functional resume layout, for example, is very straightforward and easy to read.
Perfecting your resume – Take your resume for a test run
As you can see, the use of keywords isn't an exact science. Nor is your resume, at least, not yet. Try out your new keyword-based resume on a selected job.This is how to test your "reinvented" edited resume:
Just use the required keywords in your resume, and polish up the resume to make it look good.
If your new resume format gets more interviews, you've got it right.
If not, ask the employer, see what didn't work. You'll get at least some useful feedback from most HR professionals.
A point to remember – Using keywords in resumes does work, very well. It will be well worth your while to try out a keyword-based resume.



Images are teaken from: cdn.onextrapixel.com, semrush.com, gstatic.com.