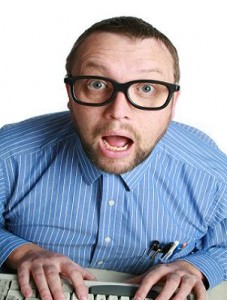 White paper…only white paper and nothing more. 15 minutes passed…Success! One line has appeared. What is written there? Name and address. Hm…not so much, frankly speaking. After one more 10 minutes this line disappeared. And nothing. Again. It's lasting already for one hour.
This is a usual process of resume writing by a person who seeks for a job. I call it "white paper syndrome". I guess everybody confronted with it. When you just sit stuporously opposite your monitor and think "How?". I used to think this is an illness of writers and journalists, but it turns out that I was wrong. It also spreads to job seekers.
For some reason it's hard for people to write about their personal features and specify desirable conditions of work. It's easy to think about it, to keep it in mind, to dream about it, but when it comes to writing all this as some official form, all the fantasy is vanishing at once.
Just imagine if job seekers wrote in their resumes something like…"want to be a big boss of a large company, have an office on the highest floor of the coolest sky-scraper with a view of lights of Manhattan and have a secretary who can cook the most delicious doughnuts in the world…". Funny, true-to-life, creative, BUT strange. I guess recruiters would just laugh reading such a resume, but not more. It would rather be suitable for some humorous programs, but not for job applying.
So why do people turn to resume writing services? They do it to have their thoughts and wishes voiced by professionals to make it perceptive for recruiters…