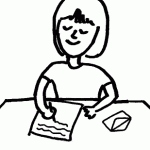 Every one of us goes through an interview at least once in our lives. The moment you are in front of the interviewer is the right time to show all you strengths, skills and capabilities. But, according to Resume Writing Service, an interview is incomplete without an interview thank you letter.
Writing an interview thank you letter is a great symbol of professionalism and it shows your keen interest in the job. You should write the letter to your recruiter within 24 hours of your interview. ResumeWritingService.biz is sure that this will have a great impact on your recruiter. You can mention any details about yourself which you were somehow unable to deliver in the interview.
Now the question is how to write this thank you interview letter. You don't need any kind of career coaching for this. It is very simple and easy.
Here is a sample interview thank you letter From Resume Writing Service
You name Your complete address Email address Contact number(s) Date Name Complete address of the organization
Dear sir/madam/name,
I am extremely grateful that you called me in for an interview for the position of X in your organization. I am greatly hopeful and very much sure that you will give me a chance to become an active part of your organization. I am very interested in this position.
As discussed with you, I have a lot of experience in ABC field. As your organization has a plan to capture maximum market share together we can have a shinning future and my expertise will help you and your organization to be on the top.
(Mention any details which you didn't mentioned in the interview)
If you have any other details to inquire you can contact me through email or can call me. I am always there for you.
Looking forward for your positive and keen feedback.
Once again I am thankful to you for your precious time.
Your' sincerely,
Your name. Signature.
You can make required changes as per your need in the above sample interview thank you letter provided by www.resumewritingservice.biz. You letter should be so influential in order to force the organization and recruiter hire you for the job. Don't write irrelevant material. You letter shouldn't be very large. Make it precise and simple so that the reader can read it quickly and with ease.
Resume Writing Service wants you to remember that interview thank you letter is very important because among a large number of candidates you may be the only one who is writing the letter. So it increases the chances of your selection. You can increase your chances even more if you order thank you letter writing from us!