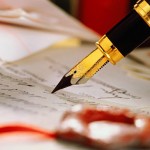 Resume Writing Service is sure that your actions between two interviews can influence greatly on the things you will hear from employer on the second interview. That's why writing a Thank you letter that expects another interview to be run should take a lot of attention.
ResumeWritingService.biz advises to write a short note in the next 24 hours after the interview that makes a summary of your previous discussion with employer, emphasizes your perfect fit to the position and shows your desire to work. Writing a Thank you letter can give you an excellent opportunity to mention your strong sides, about which you forgot to tell during the interview. Here is a sample of Thank you letter, which emphasize grasp of required skills:

Ms. Ann Newton New York, 05.11.2010Good Magazine 1010 Madison Avenue
New York, NY
Dear Ms. Newton:
I'd like to thank you for the time you spent talking with me about the statistic-research analyst position you have open at Good magazine. I am very excited about this position and convinced that my stastic training equips me more than adequately for the job.
I meant to mention during the interview that last summer I attended a three-week intensive seminar on SPSS and STATISTICA, the foremost software packages for statistic analyze. I know the job description mentions the ability to use SPSS, and I wanted to make sure you knew that I am extremely well-versed in the use of this software. My applied usage of theoretical knowledge was developed during 2 month practice in student laboratory of applied sciences. Please contact me if you have any questions about my ability with this program or about any of my other qualifications.
As you know, my work-study position in the institutional research office here at Weelers provided an excellent background for statistic- research work.
I look forward to hearing from you soon about the position, and I again thank you for meeting with me.
Sincerely,
Brad Melton
In case you will need a customized Thank you letter written by a professional writer, turn to www.resumewritingservice.biz and you will be helped!