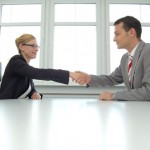 According to Resume Writing Service, it is a commonly asked question in interviews. Interviewer does not know much about the candidate as well as he/she tries to examine candidate's confidence and his/her realism that reflects one's professional behaviour. This even helps a candidate to express himself/herself, to elaborate his/her expertise and explain weaknesses positively. This may enlighten the candidate as well. One needs to be smart enough to play with this situation.
Candidate would be free to introduce his/her strengths to the interviewer. Now one needs to behave in a professional manner. ResumeWritingService.biz advise to explain the strengths you really have. Do not overexplain or exaggerate your skills. You could tell about "your impressive communication skills, quote your experience enhancing your skill, if you have'.

Resume Writing Service Knows What Is Worth Mentioning In Your Interview
Tell about your good leadership abilities, as you have a friendly attitude with your juniors but do not compromise on the quality work. Convince that you are a good team player as well, can give different ideas that can improve team performance. Resume Writing Service
advise you to tell that you do not get depressed on your mistakes, your self-motivation do not allow you to lay down on failures so you keep on working till success.
Do not include your qualification as your strength. Elaborate skills beyond your documentations. Show the interviewer your insight vision, your ambitions, your unique way of thought, the way you can polish your abilities and provide them great work. Do not say that you are compromising and hardworking. This may be said by everyone out there waiting for his/her turn. Answer professionally, be mature while answering.
If the interviewer asks about your weaknesses, you need to be very careful regarding this. Explain your weaknesses positively. Resume Writing Service.biz is certain that no-one is perfect, weaknesses are in everyone but you need to mold them impressively to remove their negativity.
You can say that "you are so passionate about your job, that's why sometimes your family and friends get ignored". You can say that "when some idea strikes your mind, it makes me forget my all interests". You can say "as I am a person with a kind heart and feel that everyone has the right to express oneself, that's why sometimes you have to face much criticism".

Do not say that you are a moody or sensitive person
. According to Resume Writing Service.biz, you should never bother your interviewer's casual behaviour regarding your weaknesses. You still need to be very careful even they say to feel free and be open.
According to www.resumewritingservice.biz, all the
interview preparations
you have done or the interview techniques you have gone through can be failed unless you answer your interviewer confidently and smartly. All you need is having complete confidence on your abilities and your good luck. It wouldn't hurt to
have a professional resume written
by professional writers at ResumeWritingService.biz
.
Order
our services
today and be prepared for an interview tomorrow.
Resume Writing Service