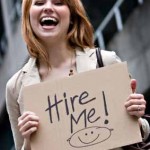 If you are still in college or if you are graduating you probably haven't had the opportunity to have some impressive full-time job. There are so many other interesting things to do! But the time has come and now you have to find some workplace. You may be wondering how it is actually possible to make your future employer interested. No matter if you are aiming to het to the internship or a full-time job, your resume still has to be impressive. Your key to future success is to show all you strengths, like education, background, interests and work experience (if any). Well, in most cases this is the biggest problem, so let's see how to make a resume with poor work experience.
So, place the education section at the top of your resume. If you have great GPA, put it over here in BIG and BOLD letters! If you are sure that it is just brilliant, include here the number. Since you haven't got too much experience, you must have dedicated yourself to studies! Show this to your future boss! And the logic is quite simple here: if you were dedicated to your studies, you will be as well dedicated to the job.
Then, you should point out all your awards and achievements. Include all the awards and honors you've gained during the studies. You should tell in more about those related to your future job. You "Awards" section should reflect all your talents!
Then, show all the experience you've gained through the classes. You have already chosen you future workplace, right? Well, think of all the classes that prepared you for this challenge, list all the skills you've gained at them. In case you took any special course where you were taught some priceless skills, put it here and show what things you can so and how useful for the company you will be.
Include all your part-time jobs. Don't give just a dull description of your hard work. Instead, think of all your responsibilities and show how successfully you've completed them. Think carefully and creatively! Make sure that you employer will see how your previous achievements will help you at the future job.
You must have done some volunteer work by now. No matter what kind of tasks you were supposed to do, this is a good point to mention in the resume. Your task is to turn your experience into something useful for our boss. Show how successful you were and give some concrete examples or figures!
Your skills. That's your next section. Living in the 21 century you must have certain at least basic knowledge of hard- and software. Make a list of programs you can work with, because they are critically important for any kind of work today. Of course, your personal and professional skills are even more important! So, tell, how you can overcome difficulties, or work in a team, for example.
And the last important thing, your contacts. You have a wonderful resume and there will be lots of people willing to contact with you. Make sure they can do it! If you are living on a campus, include this address along with the permanent one. Put them both at the top of your resume together with phone number and email address.
So, once you've done all that, start waiting for a letter or a phone call. Even though you may be an inexperienced worker, you have something that makes you a desirable worker. You are young, you are full of enthusiasm and you are open to all those new things. And this is something really appreciated by lots of employers! I'm sure you will find the job you want! After all, "impossible is nothing". So, go and prove it!