Best Format For Resume
If you're trying to decide what's the best resume format for you in 2015, the good news is very good. These resumes are easy to manage, comparatively very simple, even at exec level, and very easy to adapt to any type of job.
The new executive resume format is all about efficiency and depth of information. It's a classic "Before and After" scenario. This is a new approach, and it's well worth comparing the new formats to the old. You'll like what you see.
Before
More complex
Information all over the place
No personal statement or profile
Not well organized in terms of structure
Bureaucratic, rather than informative
After
Simpler, easier to read and easier to write
Much more flexibility in information management
More competitive formatting to give applicants a chance to tailor their information to the job
Much easier for targeted resumes
Upgrading Your Resume – Why You Should and Why You Must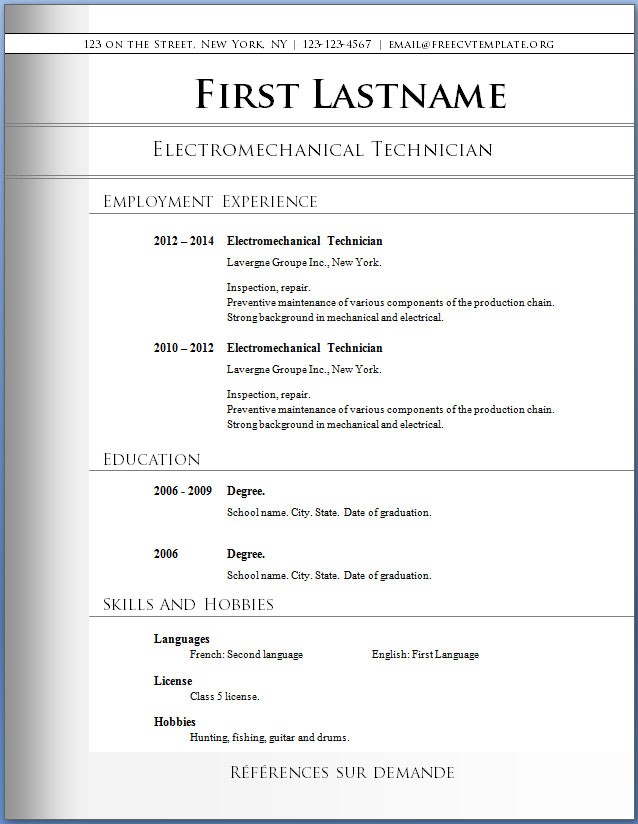 If you have an old style executive resume format, it's now far past its expiry date. The old resumes really can't compete at all. They don't look good, either, in comparison with the much more effective new resume formats, particularly functional resume layouts.
The simple truth is that people tend to stick to the resume styles they were trained to write. Those styles inevitably become obsolete, and sabotage job applications simply because they look ancient.
The fact is they actually are ancient. They're not even in the ballpark for modern executive job applications, and they're essentially a waste of time. Put it this way – Would you rather read one page of interesting, relevant information, or 2-3 pages of uninteresting, uninformative, and bland information on the same subject? Not a hard choice, is it?
Executive Resume Formatting Advantages
The idea of the new resume formats is good space and information management combined with targeted resume information. It's a winning combination, and it's quite true to say that the new resumes are preferred by both employees and employers.
When working on your own resume you'll need to consider a few fundamental issues:
What sort of layout do you want? Do you want an ultra-conservative, all biz, high professional standard resume layout, or something a purely "industry" layout, like an IT layout, to deal with your space requirements?
Managing presentation: Do you want a particular look and presentation style?
Format management: Do you need to handle a diverse range of information, like sales figures and graphics, or multiple certifications? Check out the styles that work with these requirements.
Competitive formatting: Which resume format allows you to deliver more competitive information?
Before we go on – These are not superficial issues. Space management, for example, is one of the core issues in resume formatting, particularly for highly experienced people who need to pick and choose their materials. The "competitive element" is no minor issue, either. You need to deliver good information to progress your application.
You can see why the new formats are so popular. The new functional resume formats can do practically anything, and they're excellent for best executive resume formatting, allowing easy quality control of information.
When checking out the new 2015 executive resume examples online, think hard about creating a customized resume, right from the start. To compare you can read also executive resume 2014. Which resume format "looks like you", and which of the basic layouts presents the application the way you want to present yours?
Evaluating 2015 Executive Resume Formats
You need to be fussy, and you need to be thinking about creating advantages for yourself when evaluating resume options:
Rebooting your existing resume: This is something you will need to do on a regular basis. The old resume has to be "redefined", in effect, turned in to a new resume, but you also need to build in the new improvements and better information structures to get the best out of your new resume.
What about career goals, and which resume format is the one for that Great Leap Upward? You see why being fussy is so relevant. If you work in a profession where performance-based information is the big issue, you need a performance-based resume. If you're a in portfolio profession, you need a targeted resume, with each element handpicked for each application.
Are you required to show a lot of different skills? Stick to the basic functional resume. This is a very useful format which allows you to manage and clearly target each required skill, almost effortlessly. These resumes are extremely easy to write and edit.
Are you in an industry or profession which uses more conventional resumes? In academic roles and many higher professional roles, added complexity is an inevitable part of your resume. The real issue is managing that complexity so it doesn't become a noose for your job application. Again, borrowing from functional resume formatting delivers the information without creating "collateral damage" by adding too much more information.
The New Resume Templates
Believe it or not, new resume templates are very useful, easy to work with, and definitely handy when you're trying to draft a new application.
A few tips for working with the new executive resume format:
Work to a logical system and explore your options. See what's possible with every section and learn how to use the template as you go. It won't take long until you're able to do an entire new rewrite and create a good job application in less than an hour,
Always make sure that your resume is up to market standard. Think competitively when writing your resumes, and compare with online examples. (Also notice that your expertise gives you an inside track when writing a resume, compared to the sample. It's a good way of comparing information quality.)
Do NOT slavishly copy information and styles from what you see online. The idea is to produce better quality resumes. Your resume should make the basic examples look pretty lame. Always stick to high value information and good, professional quality presentation. Remember – This is all about business. Create your resume the way you'd create a presentation. You'll be very glad you did.
Contact us now to get best format for resume!