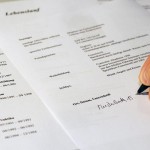 One of the most developed European countries is a great opportunity to realize your ambitions and find an occupation that exceeds your expectations. Germany is the country of birth of Volkswagen, Siemens and Kraft Foods – you can be sure that you'll find a well-paid place in a big and reputable company in your industry. Resume Writing Service always supports ambitious job-seekers and gives them some tips on how to make a job search in Germany less stressful. First of all, start with writing a resume. And of course you can turn to Resume Writing Service professionals, as they are well aware of the proper German resume format.
Resume Writing Service Explains the Format of German Resume Writing
As you know, in Europe the resume is called a CV. But that doesn't reflect on its length- usually 1-2 pages will be enough. Always keep in mind the rule of brief, but high-impact resume. "Lebenslauf" (Curriculum Vitae in German) is comparatively a bit longer than in other European countries, but doesn't exceed 2 pages.
Germany is a very precise country, therefore to write a resume according to their standards, don't forget to state the date and place of birth (and also your age), marital status and number of children. Moreover, your photo in the corner is also required.
This section doesn't differ from American resume format and is written in reverse chronological order. Make sure that you highlighted your key achievements and participation in international projects.
Absence of graduation dates is quite common feature of American resumes, but while writing a German CV, you shouldn't neglect this information. Furthermore, add addresses, grades and equivalent German degrees.
It is obvious that you should mention your proficiency in German, and it's better to separate your verbal and written skills. Grade your knowledge as fluent, high, medium or low, but never overrate your abilities: they will be checked at the first interview. It's great if you have any international language diploma such as DaF, OnDaF, Sprachdiplom or Goethe-Zertifikat. Other professional skills are also welcome.
Your honors and awards are very important in German job search, especially if you had participated in international conferences or programs. Even if they were very brief, don't undervalue their importance.
Finish your German CV with date and signature: yes, very unusual for us, but very ordinary for Germany.