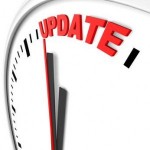 A resume isn't a paper written once and for all, it's a dynamic reflection of your professional growth, so regular resume updating is vitally important for successful employment. When your resume develops accordingly to your current situation, you won't have a trouble in future with summarizing all accomplishments achieved during the last years and you will be always open to new job opportunities.
On the other hand, resume editing can be done by resume writing service anytime, but when you update your resume from time to time, it will save your money. Updating won't take much time if you know what information should be refreshed. There is existing gradation of the most important changes our Resume Writing Service experts advise you to highlight:
It's vitally important to fill your new address or email to contact information field, because it's the essential information for further communication with potential employer.
New achievement or impressing result has to find its place in your resume. The sooner you will add new information, the more details will be kept in your memory, so you can exactly highlight new project. Recruiter will be interested in your current activity and big gaps in your professional experience section can leave an impression of bored person. Resume Writing Service emphasize that your goal is to depict yourself as ambitious worker, who improves personal performance everyday.
Resume Writing Service advises to keep in mind the following statement: "New accomplishments bring new skills". If you gain experience in something new, especially if this skill is important for your position, mention it in your resume. Very often tasks and projects are accompanied with developed skills, so don't deviate a from your resume format.
Have won an honor from professional association or been recognized as the best worker? Promptly add this information so head-hunter can see that currently you're one of the best in your industry.
Attended training always increases your value as professional. Recently completed certification can be a reason why you start receiving interview invitations.
Frequency of your resume updating fully depends on your personal development. Some individuals refresh their resumes every month, but average it is done once in quarter. Don't forget to keep your resume brief and relevant and don't make biography from it! Sometimes it's better to have a glance of our Resume Writing Service to be sure that it's not overloaded.