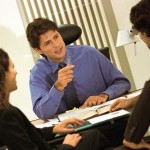 For effective resume writing in order for you to succeed in your job application and land your dream job, a guide may help. Today's post will help you come up with a simple yet creative resume to get the attention of the recruitment manager or employer. These are some resume models you may use in making your own resume. On the other hand, you may always hire a resume writer to write you an effective resume that could capture the attention of your potential employer. Anyhow, take a look at these resume models to learn about the basic of writing a resume.
Name

Postal address

Telephone number (if possible, include a mobile number)

Objective: What is your objective in applying for this job? How do you think you can contribute to the progress and growth of the company?

Summary: What are your qualities and characteristics that make you the best candidate for this job? You may list down the selling points that will capture the attention of the potential employer. (Resume Models)

Work experience: Write your work experience which includes all your present and previous job experiences. Begin by highlighting your present job experience which is related to the job application. Write down the name of the company, locations, and your job description. Highlight your contributions to the company including your achievements or awards if there's any. In resume writing, highlight why you're the most qualified candidate for this job. What are your strengths as highlighted by your job experiences?

Skills and Trainings (Resume Models): What are related trainings, certifications, seminars, or conferences have you accomplished or attended in the past which improved your current work?

Education: Include schools you have attended, degrees earned, year of graduation, and location of the schools.

References: List down some people you think would best become your references. They can be used by the employer to verify your qualifications or characteristics.
This is one of the resume models you could consider in writing your resume which could make you the most suitable candidate for the job application. Make sure to remember every section of what your resume shall include. In case you think you couldn't come up with perfect resume writing, you may consider hiring a professional writer to help you.