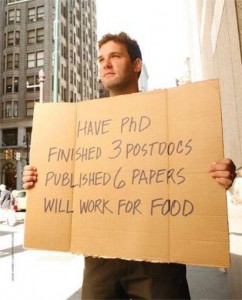 At a first phase of our adult life we are students – people who learn something, who are full of enthusiasm to make a difference, who have a lot of energy to change the world.
Then we turn into job seekers, who put efforts to make their life more comfortable, who want to earn more money to achieve this desirable comfort.
We create professional CV to get attention of leading companies, we turn to job search assistance to get the best job. And what is the result?
When you go by taxi, it can turn out that your driver is not a driver at all. He is a PhD specialist of physics, or history, or economics…
Or a janitor at your apartment block. You think it's a simple janitor who is able just to close and open the door? You're wrong. This janitor has a master degree in journalistic area.
And I'm completely serious right now. It's not a joke. According to statistics 5,000 of janitors in the U.S. are with PhDs. And in general 17 million college-educated Americans work at places that don't conform to their level of education.
Don't you think that this figure is a little…HUGE???
It shows us that even if you have the best resume written by professionals and if you hire the best team of career development trainers, it doesn't give you a guarantee that next day you will sit in a chief's chair. Everything depends on YOU. On YOUR desire, on YOUR attitude.
If you really have it you will undoubtedly achieve everything you want, but if you don't…I'll have to disappoint you, my friend…