If you want to ensure professional success in 2015, having a new LinkedIn profile is important. In this New Year, hiring officials are looking for applicants in different ways. Social networks have become even more important to this process. The most current information about your experience is the best way to acquire executive positions.
LinkedIn is commonly associated with connecting qualified applicants with interested employers. This social network opportunity can help those who are looking for work. It is also a tool for connecting individuals in similar fields and industries. Amazing LinkedIn profiles are those that get the most views and result in real connections.
Today, LinkedIn is offering more advanced methods for professionals. Executives can use their offerings to learn about concepts and memberships in their industry. It is also now possible to use this network as a publishing platform. Stories and other information are being shared here. If you want to build your career options, you need to keep your profile information up-to-date and well maintained.
More Options for LinkedIn Profiles
LinkedIn profiles can be designed in a variety of effective ways. The keywords that you use are additional tools for these designs. Words that are related to your industry, whether it is IT or HR, can be helpful. Along with using specific keywords, you can target certain areas of your profession. Social networks are good sources for making career connections. And a good source of inspiration too. Try find these profiles on LinkedIn: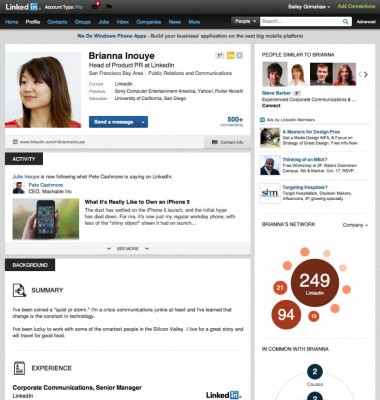 Marshell Hill
Andrei Slusarenko
Jose Culqui Santillan
Doron Miranker
Grant Phillips
Or try finding this link helpful.
Utilize Proven Concepts
The more views that you get on LinkedIn the more likely you are to find an executive level job. Having an existing profile is not enough to garner the attention that you want. It is important to update LinkedIn profile information on a regular basis. Hiring officials are not only looking for qualified applicants, they want to see your dedication in showing your expertise.
Profile developers offer services that are extremely helpful. They ensure that your profile information is not only maintained but efficient. These individuals know how to tailor these tools so that they catch the attention that you want. Getting the right executive job means keeping current information available.
Hire these professionals to make sure your profile works for you!