You want to make a great first impression on your potential employers?  You have a professionally written resume…a solid cover letter…and you've been coached on how to ace an interview.  Is there anything you could be missing?
In the Internet age, you could be missing something huge.  Welcome to the world of online media, social networks, millions of strangers on the web, and hundreds of so called friends.


Welcome to the World of "Information that belongs to No one!"
In a world that used to prize privacy, people now post their thoughts, photos, and even videos all over the Internet – sometimes without thinking about restricting who can see them.  And even if you put restrictions on who can access your information, there is a chance your friends could put stuff into cyberspace that you would rather not have out there.
The bottom line is this: Don't put a top-notch job search campaign together just to get harpooned by your online presence!  Think this doesn't apply to you?  Think again.
Picture a hiring authority reading over your resume in front of her computer.  If she types your name into a search engine, what will she find?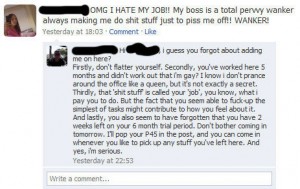 Facebook photos from your vacation in the Bahamas?
We have enough tipsy people at office dinners already.
Rude blogs on politics and authority figures?
I don't want someone working for me who won't listen.
Posting constant Twitter updates about your coworkers or clients?
We want someone who is more prudent.
Information on the Internet can spread like wildfire.
People have been fired because of comments they made in "private" settings.  How many people never got a job offer because of Facebook or My Space posts?
Are you certain your online presence isn't negatively affecting your career? Can an employer or potential employer find non-flattering information about you on the Internet?  Are you in control of the impression you are making?
If you think you are and that you have it under control, remember that your family, friends, and colleagues from past and current positions could be posting photos, videos, and amusing antidotes about you that you would prefer they didn't.  Let us do some investigative work for you and find out what impression your online presence could give.
You can do more than make sure damaging information about you isn't circulating the web.  You have the power to make social marketing a key element of your job search campaign.  Click here to learn more about our social networking profile service.
But even if you decide not to market yourself on the web, please make sure your damage control strategy is well in place.  Knowledge is power!  If you don't know what is out there, you can't figure out a way to control it or correct it.
We started this service because we found damaging information about our clients on the web.  Sometimes all you need to do to correct a negative image is adjust your privacy settings.  Maybe you just aren't aware of how many things can trace back to you.  Or maybe you don't realize how your online image could be perceived by a potential hiring authority.  Let us search you and report back to you with concerns and recommendations.  Then you can decide how to proceed.
Remember – Knowledge is Power!  You decide what image to project, but find let us investigate what is already there.
Candidate Profile Screening service includes:
Entering your name into several search engines to discover potential results.
Examining the links, pictures, and videos you share out publicly.
Investigating posts made about you by friends or associates on social networking sites.
Reviewing the links and photos your friends share publicly.
Reading your blogs, posts, and tweets.
From Facebook and LinkedIn to Mylife and your old college community blog – be confident that we will do an exhaustive search of all social and professional networking sites to ensure that you know where your personal information is listed. In addition to a  short description of the information we find, we provide you with tips to improve your profiles and enhance your online image. Not only will we assess the professional strengths and weaknesses of your accounts, but we will also advise how they can impact your career.
Let us do this before a potential employer does!
Order Candidate Profile Screening for $59.95
47.96*

only now!

(*for new buyers only)
Tweet this!