Executive Interview Coaching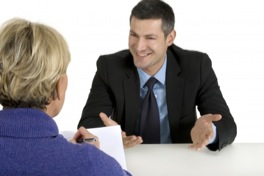 You get a call from a recruiter inviting you to an interview for a job that you REALLY want – what happens next? You start dreaming about being offered the job. All you need to do is to ace the interview! How do you do it?
Somehow you need to present yourself as the perfect candidate, say the right things, act the right way, dress appropriately and mind your non-verbal language! It can be a stressful ordeal and you have to sell yourself without coming off as too bold.
What kind of questions will I be asked? How should I behave? What examples should I provide? What do I talk about? How do I talk about myself? These are some of the questions most candidates incessantly worry about before an interview. When it finally comes down to it, many give off the wrong impression immediately. Why? Because they are not properly prepared and were thrown off guard by a question, comment or facial expression.
Executive interviews can be tense and the expectations can be difficult to meet. Our professional executive interview coaching service can help you ace the interview and get the job you want!
Professional Executive Interview Coaching
An executive resume is only one of the first steps to preparing for a job interview. Once you catch the interest of an employer, you need to verbalize your skills, goals, expectations and abilities in order to physically validate that you are indeed the best candidate!
Our professional executive interview coaches know all the tricks, techniques and executive interview strategies! Sure there are dozens of sites about executive interviews, offering tips and suggestions for acing an interview. But when it really comes down to it, they might not be as effective. We conduct a thorough interview coaching session with you and are always ready to provide advice, answer your questions and correct your mistakes before you make them at the interview!
Learn how to turn the situation in your favor!
Learn how to turn your weaknesses into strengths!
Show an employer that you are an executive!
Get Help from a Professional Executive Interview Coach Today!
Our executive interview coaching service:
Provides you with the most up to date advice, suggestions and strategies!
Prepares you for an executive interview like no other service!
We take our time and do not take up yours!
We make sure you are fully prepared!
We hire only the best interview coaching experts!
Don't hesitate to ask help for executive career coaching from us!