Professional Resume Writer Mary Beth
Professional Resume Writer MARY BETH
With 25 years of experience in consulting professional services both as an engagement manager and as a principal contributor, I bring to my writing deep and valuable business experience. Familiarity with the operations of industries across the board finds a natural fit in my work with clients as I help them tell their stories. For me, this is the heart of the resume writing process – we aren't just putting facts and figures, phrases and sentences, timelines and contact info together in a document! We are telling a story in such a way as to capture someone's attention. We want to tell a story that is interesting, clear, descriptive, as well as comprehensive with all of the necessary facts and figures. My experience positions me well when we start talking about your situation. I know the language, I'm familiar with the environment, I know the challenges.

Mary Beth
Resume samples from Mary Beth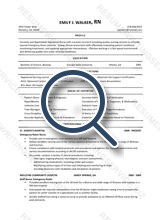 MY AREAS OF EXPERTISE
Art, Biology, Business, Chemistry, Communications and Media, Economics, Education, Engineering, English, Ethics, History, Law, Linguistics, Literature, Management, Marketing, Mathematics, Medicine and Health, Nature, Philisophy, Physics, Political Science, Psycology, Religion and Theology, Sociology, Technology, Tourism, Other
I use a variety of techniques to make this happen, and they all derive from my skills developed interviewing many, many business clients, gathering their information, understanding their problems, articulating their desires, and formulating good, workable solutions. Working directly with my writing clients, we "mine" the past for all of those gems that not only make the story interesting but also fully tell the story of their skills, responsibilities, leadership, and accomplishments. So many people trivialize or minimize their experiences, because they forget that not everyone can do what they do and not everyone knows what they do! If we've done our job successfully, we come out of the resume writing process with a refreshed view of your story, and we've taken the first important step to preparing you for those interviews!
Testimonials
About ResumeWritingService.biz writer Mary Beth:
Desired position: Web Content Writer
"… 5 star service! Excellent analysis and design of resume. Mary Beth helped highlight my strengths and tell my story in a way that is aligned with my career objectives. Very personable and resourceful. I highly recommend her services to anyone wanting their resume and cover letter redesigned. …"

Lori, 2013
Desired position: Observer Operator
"Mary Beth, After carefully going over everything again, THAT IS PERFECT!!! I don't see how it could be any better. Thank you again so very much"

Willis, 2013
Desired position: Federal Government
"Mary Beth,Thanks again for everything and no worries at all. The changes you made were perfect and appreciate all the help."

Josh, 2013
Desired position: Education Field
"I decided to have my resume redone because I wasn't happy with the resume written by another service. I was fortunate to have Mary Beth help in redoing my resume. She wrote me an email and introduced herself and we made time to talk by phone. She was not only professional and very pleasant she listened to what I wanted the resume to reflect. She was very attentive and also had really good suggestions. I was even more pleased with the very fast turnaround. She let me know that if there was anyything to be revised she would be more than happy to help. It is my pleasure to recommend Mary Beth to anyone to help with a professional resume."

Dawn, 2013
Desired position: Engineer
"Mary Beth, The resume looked very good. Thank you for your effort."

Santino, 2014
Desired position: Freelance Graphic Designer
"Mary Beth was a true professional and a pleasure to work with. The resume and LinkedIn.com profile looked great. Thank you very much for your work!"

Derek, 2014
Desired position: IT Specialist
"The resume and all the documents look absolutely amazing. Thank you very very much for this!.."

Johnathan, 2014
Desired position: Global Product Manager
"Everything looks great! I don't have any changes. Thank you so much for all of your help!"

Amanda, 2014
Desired position: Technician
"I would like to say how grateful I am to receive your CV writing help from the writer Mary Beth. She has done an excellent work. She was sensitive and accommodating of all of my suggestions to her. I was even impressed to note that she read about my medical specialty to incorporate great terminologies into my CV.Speechless to how happy I am.
Thank you again for your service."

Abrehet, 2014
Desired position: Marketing Professional
"Perfect! Thanks for the final review, the resume looks great!"

Julian, 2015
Desired position: Small Business Operations and Management Professional
"Thanks so much. LinkedIn looks great. You are the bomb!"

Tina, 2015
Desired position: Business Professional
"I would recommend you and your company to anyone who needs a professional resume written especially when they don't have the spare time (like me)."

Bonnie, 2015
Desired position: Registered Nurse
"Thank you for all of your help through this process. This really helps and it is nice to have it done…for both of us. You made a nice spin on my rather winding employment history."

Ruth, 2015